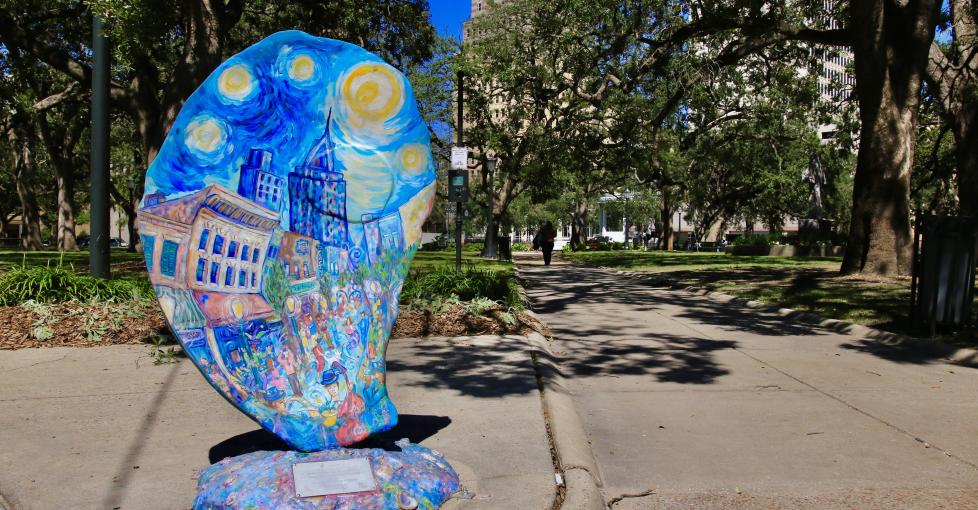 Mobile Bay Sculpture Garden and Oyster Trail
Mobile, AL
Tucked away in the upper reaches of Mobile Bay, The Azalea City has not one, but two outdoor art installations, each unique in its own way.
On the grounds of the Mobile Museum of Art, some 30 works covering a period of more than 60 years line a walk along the waters of Langan Park Lake. The styles range from pure traditional (Jo Hess's bronze Flora, a kerchiefed woman contemplating a flower pot) to the wildly outrageous (my personal favorite: John Cerney's Selfie, depicting people snapping pictures of themselves with rampaging dinosaurs).
Also around the bay, be on the lookout for the city's decade-old Oyster Trail: dozens of three-foot-tall fiberglass oyster shells, imaginatively painted by many of the state's leading artists. Don't miss the shell at the corner of Dauphin and Conception Streets that depicts downtown Mobile as Vincent van Gogh might have seen it, or Mobile on the Half Shell at the east end of Spring Hill Avenue, a sumptuous vision of the city from Antebellum times to today.
First published by The Saturday Evening Post. Read the full article here.