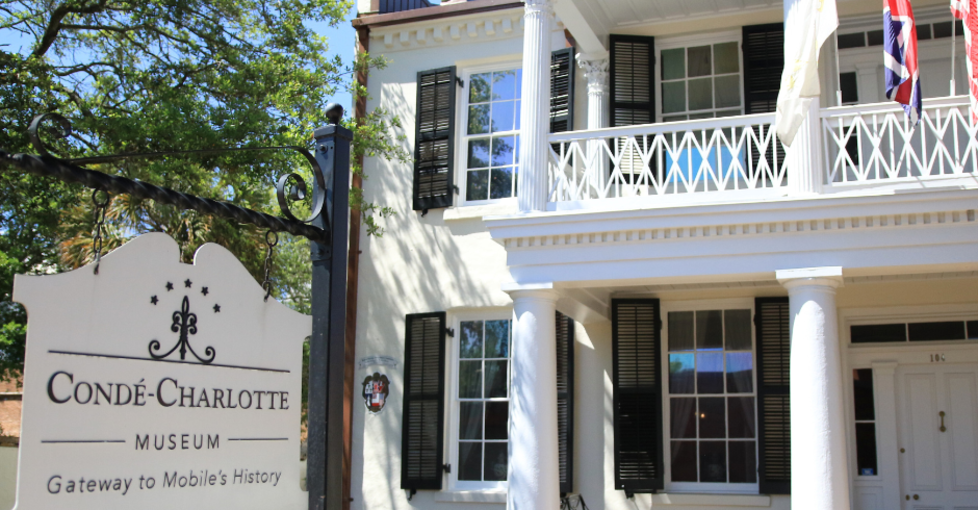 Mobile, Alabama (April 18, 2023) – With more than 300 years of history under its belt, Alabama's First City has no shortage of architectural assets that tell the tale of its storied past. While many of these structures continue to serve their original purpose, Mobile has been breathing new life into historic spaces through adaptive reuse, transforming and converting their purpose, while retaining their structural heritage and paying homage to their previous lives. Uncover the perfect fusion of past and present and discover the array of innovative ways that Mobile has reimagined many of its beautiful buildings, which continue to welcome visitors and residents alike … just not in the ways originally intended.
From Handcuffs to History
104 Theatre Street
   Mobile's first courthouse and jail, the Condé-Charlotte Museum dates to 1822 and is listed on the National Register of Historic Places. This museum serves as the gateway to Mobile's history and is filled with antiques and artifacts that will take you on a journey through the area's rich and complex past under five nation's flags. Be sure to check out the old cell doors and a portion of a jail floor on your visit.
From Gas to Gruyere
650 St. Louis Street
  Once a single-pump gas station in downtown Mobile, this charming space is now a cheeselover's paradise, serving up delicious charcuterie boards, sandwiches, salads and more on a covered outdoor pavilion. Consider ordering one of the weekly specials, because no matter how you slice it, these features will melt your heart … and help you fuel up for an afternoon of exploration.
From Pews to Brews
206 State Street
  This converted Baptist church now focuses on "crafting community through craft beer and good food." The brewpub is named for Henri de Tonti, an 18th -century Italian in the service of Pierre Le Moyne d'Iberville (Mobile's founder) who lost his hand in an explosion and was forced to wear a metal prosthetic. The brewery now offers a full selection of house-made brews, a rotating list of guest beers and delicious traditional pub fare.
From Mayoral Marketplace to Majestic Museum
111 South Royal Street
  The Southern Market/Old City Hall National Historic Landmark dates to the 1850s and in the past has accommodated the Mayor of Mobile's office and served as the headquarters for local militia units (including the Mobile Cadets). Its atrium once housed the Southern Market of Mobile, where licensed food vendors sold meat, vegetables, seafood and fruit until 1942. Now offering a plethora of interactive, hands-on exhibits, this museum brings Mobile's history to life in a stunning Italianate building that has served vital roles for centuries. Mobile's City Council continues to occasionally meet in this building to ensure bragging rights about having used this location continuously since the building opened in 1858.
From Lieutenants to Luxury
Battle House Renaissance Mobile Hotel & Spa
26 North Royal Street
  Located at the site of a former military headquarters set up by Andrew Jackson during the War of 1812, the first Battle House Hotel was opened by James Battle in 1852 and was where Stephen A. Douglas learned that he had lost the presidency to Abraham Lincoln. That building burned to the ground in 1905 and the hotel's current structure, built in 1908, has remained a prominent fixture of the city ever since. Deep in the heart of downtown Mobile, this iconic hotel offers 238 luxury rooms, on-site restaurants, a rooftop pool, full-service spa and tennis court, making it a perfect place to relax and unwind. From Prescriptions to Public House Nixon's Midtown 1801 Old Shell Road "Serving relaxative since 1927," this converted drugstore is located in the heart of Historic Midtown Mobile and boasts a selection of more than 20 draft beers, from-scratch dishes, and endless good times. "Cure what ales you" at this welcoming neighborhood watering hole, shoot a few rounds of pool with your pals, and enjoy a cold one with your new local bestie at the apothecarythemed bar.
# # #
MEDIA CONTACT
Mallory Furry
mallory@mindybiancapr.com