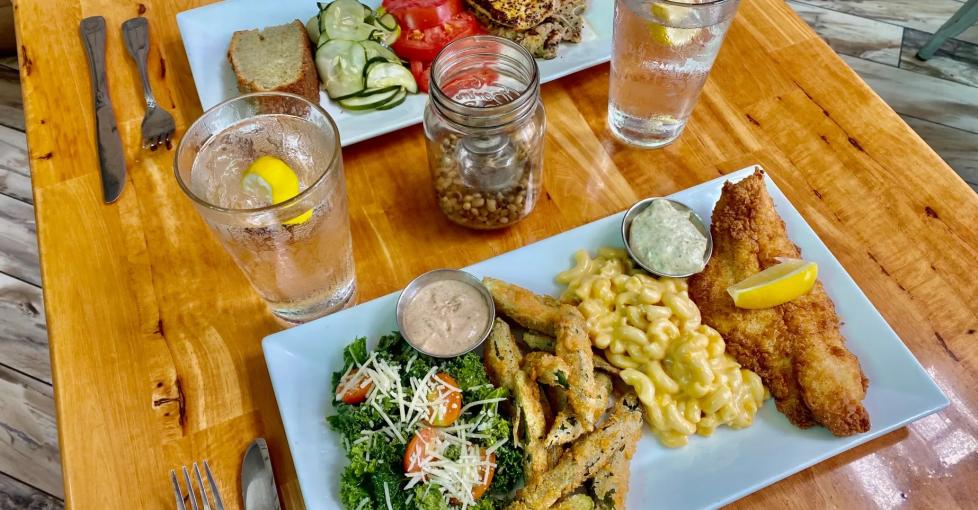 It must be a Southern thing because I'd never heard of Meat Plus Three, aka M&3, until my friend Mindy Bianca shared with me six restaurants–three in Mobile, Alabama and three in Spartanburg, South Carolina where a meat-centered meal (think fried chicken, catfish, or ribs) comes with three sides. 
"By my calculations, that's six meats and 18 sides," says Mindy, who used what she calls Mindy Math to come up with that number. "And goodness knows how many gallons of iced tea."
Now don't go looking up M&3 because Google will take you to either an ad for a very fancy BMW or a bunch of three-star Michelin restaurants. Now as wonderful as M&3s are, you're not going to find serious looking people taking little bites of fancy looking food, chewing slowly and then writing notes in leather bound notebooks. If you see that, you're not in a M&3 restaurant. How do you know? Because anyone at a M&3 is going to be chowing down big time. And if they have to write something down, they do it on a napkin. I mean, we're talking seriously down-home cooking and just as seriously delicious.
Mama's on Dauphin
Mama's is a fixture in downtown Mobile, a popular spot for local businesspeople on their lunch breaks and visitors checking out the nearby attractions. The restaurant truly believes in supporting other small businesses, so they source their produce from local farmers markets and gear their menus to the seasons. If you want to get real serious about all this, Mindy says that technically, Mama's is a meat and two, as each entrée comes with just two sides. But she's giving Mama's a pass because  a lot of those proteins automatically get mashed potatoes and gravy with them.
"That's why Mama's makes it to my list of M&3's," she says, noting that her pick here is their Meatloaf Monday with  mashed taters as part of the entrée. "I suggest adding squash casserole and fried okra as the other sides.
Mindy's Pro Tip: Order an entrée that comes with mashed potatoes … because you still get two other sides!
Right down the street from Mama's, The Noble South is an upscale meat and three, which is an entirely new concept. Afterall, part of the charm of a M&3 are uneven legs on your table or chair (that's easily fixable by slipping in some sugar packets under the too short leg and yes, sugar packets are another sign of M&3s), cracked linoleum floors—those aren't fixable with sugar packets so just go with the ambience, or flatware and glassware that doesn't match. Yelling from the kitchen also counts. So seeing white tablecloths at The Noble South at dinner time was a little off. Could it really be an M&3?
Turns out that  Chef/Owner Chris Rainosek has the concept down pat. He offers a "lunch plate" with a changing selection of proteins comes with a choice of one, two or three sides. Of course, all is fresh whether it's from local farms or the Gulf of Mexico. You do know that Mobile is on the Gulf, right?
Chris changes the menu all the time and everything is good but if fried catfish with sides of heirloom tomatoes, cucumber salad and creamer peas are being offered when you stop by, go for it.
This meat and three is a bit unconventional, as it's a mashup of the standard M&3 and a BBQ joint. But don't judge. You can still do a meat and three … just know that all the meat is smoked in-house and totally cuttable with just a fork. Or, better yet, pulled apart with your fingers.
There's a six-step process here which can be a little complicated, but you can figure it out. After all, I did and I'm really bad at math.
First you pick your meat, followed by your bread, sauce, basic toppings, the amazing sides, and your drink. Here's an example: beef brisket with that Alabama specialty–white BBQ sauce—recipe follows), cheddar cheese,  sides of slaw, Boss beans, and potato salad; and sweet tea to drink.
It's really worth the work of figuring out.
---
First published on JaneAmmeson.com. Read the full article here.