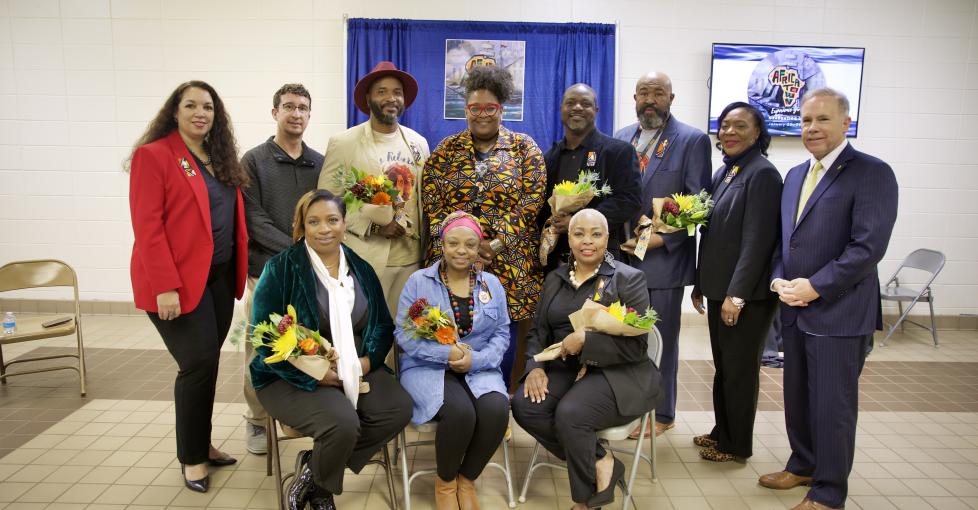 Mobile, Ala. (January 26, 2023) — On Wed., Jan. 25, a graduation ceremony took place for five new experience-giver businesses planning to start tours in Africatown. Over the last four months Visit Mobile, in collaboration with Michelle Browder of More Than Tours, Montgomery, AL, has been working with individuals from the Africatown community on training to become storytellers.  The desire of these storytellers is to turn their authentic stories into tours and experiences in order to create their own small businesses around them. 
  "Africatown is elevating voices of trafficked African people," said Michell Browder of More Than Tours. "Today, their descendants are charged with revealing More Truth, advocating for More Justice, and so we can all experience More Freedom."
Instruction included firsthand tours in Montgomery in September; story development, and audience engagement education in October; brand and resource development training in November; and business 101 education and training in January. Five all-new Africatown experiences will be available for tours in the near future. 
"The Experience Giver Training Program has been a great tool to help me get ready to start our tour business," said Lamar Howard, a graduate. "We really appreciate the opportunity to be a part of this program. The training has also inspired me to want to teach some of our younger children the art of storytelling." Howard added, "Thanks Visit Mobile for helping the people of Africatown get ready to tell our history."
The graduation event took place at the Robert Hope Community Center in Africatown and consisted of opening remarks, 5-minute summary presentations of the graduates' final tour product, and certificate presentations. Graduates include Chief Jason Lewis, USA (retired) with Africatown, Return to Culture; Joycelyn Davis with All Things Africatown; Lamar and Chiquitta Howard with Africatown Freedom Tours; Jacqueline Tunstall-Williams with What You Say! Touring; and Pastor Derek Tucker with Africatown University, "A Wealth of Knowledge."
David Clark, Visit Mobile president & CEO remarked, "We are proud of the storytelling team for stepping out and creating these new businesses. Visit Mobile is excited to promote them and the Africatown story."
To learn more about these tours and when they will become available to the public, go to the Visit Mobile website, Mobile.org, where experiences will be listed as they begin operations.
###
About Visit Mobile:
Visit Mobile is the official destination marketing organization responsible for attracting visitors and conventions to the Mobile area. To learn more about our historic destination and find out why Mobile is the city that's Born to Celebrate, visit Mobile.org. This convention and visitors bureau is an accredited Destination International Marketing Organization.
PHOTOS: {attached}
Patty Kieffer, Chiquitta & Lamar Howard, Michelle Browder
Africatown Experience Giver Class Signage
Africatown Experience Giver Graduates and Sponsors {Back Row: Patty Kieffer (Visit Mobile), Michael Dorie (Visit Mobile), Chief Jason Lewis USA (retired), Michelle Browder (More Than Tours), Lamar Howard, Pastor Derek Tucker, Rosemary Judkins (Alabama Tourism Department), David Clark (Visit Mobile) | Front Row: Jacqueline Tunstall-Williams, Joycelyn Davis, Chiquitta Howard}
MEDIA CONTACT:
Emily Gonzalez | EGonzalez@Mobile.org | 251-289-0401