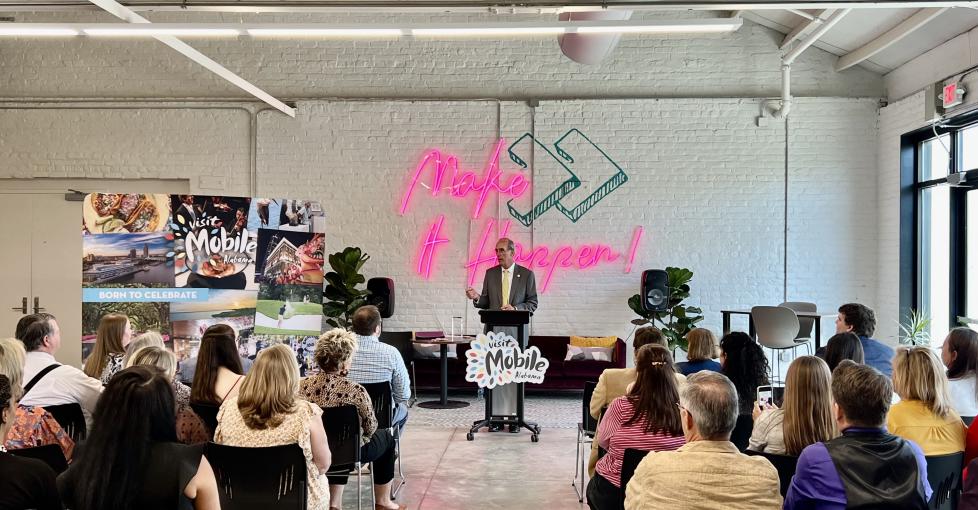 Mobile, Ala. (Oct. 11, 2022) — Visit Mobile held its Tourism Ambassador Class of 2022 graduation ceremony at Innovation Portal today. Joined by Mobile Mayor Sandy Stimpson and Visit Mobile Board Chair and Vice-Chair, Stan Chassin and Margo Gilbert, twenty-two participants received their official ambassador lapel pin and certificate during the ceremony.
"No one sells Mobile quite like the people who call it home," Mayor Sandy Stimpson said. "We work every day to improve our community for Mobilians and visitors, but what makes our city so memorable to out-of-town guests are the people. We are forever grateful for friendly, knowledgeable and engaged citizens willing to share the story of Mobile. Congratulations to the latest class of Tourism Ambassadors!"
2022 Graduates are listed below:
Brandon Beckstein

Brittany Blackwelder

Rose Brooks

Dorothy Cravey

Trixie Daniel

Amy Fesperman

Genavese Harris

Arnie Harrison

Julie Hoagload

Ashleigh Kerr

Regina Kirkland

Lana Mosley

Emily Naman

Juli Parrish

Alan Pecoraro

Charlsie Pecoraro

Sandro Philips

Gayle Phillips

Janet Silvernail

Denise StClair

Ariel Watson

Dana Zwick
The 2022 Celebratorian award was given to Lana Mosley. The award celebrates the ambassador with the greatest level of participation during the five-week program. Participation includes but is not limited to attending all sessions, high scores on class quizzes, and completion of social media challenges. 
The next Visit Mobile Tourism Ambassador class will begin on Mar. 15, 2023, with registration opening on Jan. 25, 2023. For more information about the program or to register, visit mobile.org/tourism-ambassador. 
#VM#
About Visit Mobile:
Visit Mobile is the official destination marketing organization responsible for attracting visitors and conventions to the Mobile area. To learn more about our historic destination and find out why Mobile is the city that's Born to Celebrate, visit mobile.org. This convention and visitors bureau is an accredited Destination International Marketing Organization.