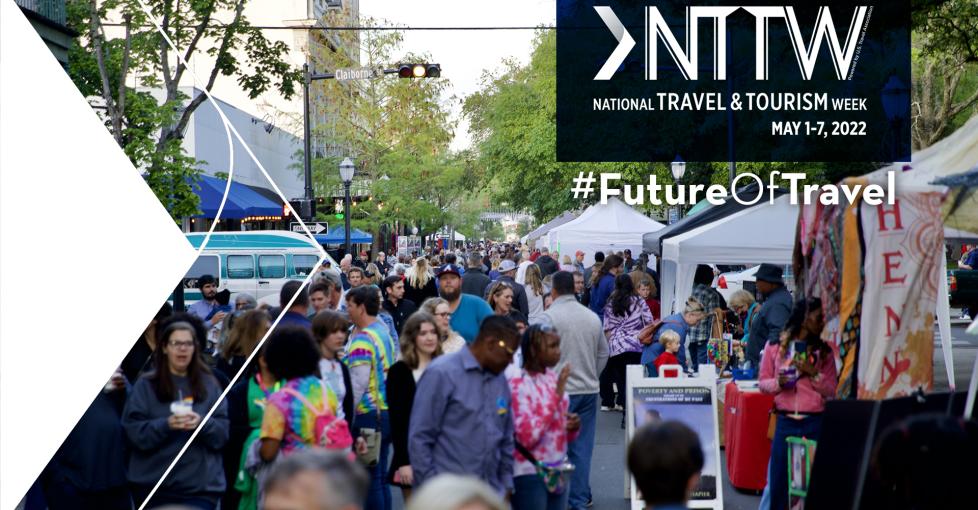 Mobile, Ala. (April 29, 2022) — Visit Mobile, in partnership with the History Museum of Mobile and City of Mobile: Parks & Recreation, kicks off National Travel and Tourism Week (NTTW) celebrations with Explore Mobile Day on May 1, 2022. 
"From Mardi Gras and our world-class museums to the city's unique history and culture, there is always something to Explore in Mobile," Mayor Sandy Stimpson said. "We have continued to see public and private investment in our tourism centers and infrastructure, which has created opportunities to bring in new visitors, businesses, and attractions. If you think you've seen all Mobile has to offer, think again."
National Travel and Tourism Week, the annual celebration of the contributions of the U.S. travel industry, will spotlight the critical role that travel will play in driving economic growth and building the path forward through the theme Future of Travel.
"Visit Mobile is planning for a future that will strengthen Mobile's tourism industry and economy," David Clark, president and CEO of Visit Mobile said. "This National Travel and Tourism Week, we are spotlighting our local tourism industry and how travel benefits our workforce, supports our local economy, fosters sustainability and innovations, and reconnects Americans to each other and the world."
Locals and tourists alike are invited to explore Mobile's rich culture and history from 12 -5 p.m. on Sunday, May 1. For one day only, admission will be FREE to the History Museum of Mobile, Colonial Fort Condé, Mobile Carnival Museum, Condé-Charlotte Museum, Historic Oakleigh Mansion, Flight Works Alabama, GulfQuest Maritime Museum, and more. Local tour operators, including Dora Franklin Finley African American Heritage Trail, will also be on hand to give tours of the city. 
"We are excited to have Explore Mobile Day back this year," Meg Fowler, executive director of the History Museum of Mobile said. "Our museums, tour operators, and cultural attractions are doing incredible work in interpreting Mobile's history for a twenty-first century audience. This is an opportunity to be a tourist in your hometown and to celebrate all that is Mobile, past, present, and future."
In addition to the Explore Mobile Day celebration, Visit Mobile will also be giving away a 2nd Weekend package during NTTW. 2nd Weekend in Mobile is full of community events, including LoDa ArtWalk and Saturdays at the Coop, that celebrate arts, culture, good food and good times. The package will include a two night stay, gift certificates and a VIP attractions pass. To enter the giveaway, visit mobile.org/nttw or check out Visit Mobile on all major social media platforms. For more information about 2nd Weekend in Mobile, visit mobile.org/2ndweekend. 
This year's theme, Future of Travel, elevates how the travel industry can restore the workforce, help communities recover, foster sustainability, usher in new innovations and reconnect travelers in the U.S. and around the world.
"The Future of Travel in Mobile is bright," added Clark. "That future looks like a brand new international airport just minutes away from our thriving downtown, a newer, upgraded cruise ship with more amenities and longer itineraries, the opening of the Africatown Heritage House museum, new restaurants, tours, attractions, welcoming back in-person conferences and meetings, and more. We have a lot to look forward to!" 
National Travel and Tourism Week has special significance this year as the travel industry looks ahead to a bright future. NTTW is an opportunity to recognize the collective strength of the travel industry and how we are pivoting to become a more dynamic, innovative, sustainable industry in the months and years to come.
Said Clark, "Before the pandemic, travel generated an economic impact of $1.3 billion in Mobile's economy, brought more than 3.2 million visitors into the market and supported 17 thousand jobs—evidence of the outsized role the industry will play in driving America's recovery and future economic growth."
To learn more about National Travel and Tourism Week and Explore Mobile Day, visit mobile.org/nttw.
###
About Visit Mobile:
Visit Mobile is the official destination marketing organization responsible for attracting visitors and conventions to the Mobile area. To learn more about our historic destination and find out why Mobile is the city that's Born to Celebrate, visit mobile.org. This convention and visitors bureau is an accredited Destinations International Marketing Organization. 
MEDIA CONTACT:
Andrew Felts; C: 251.333.8621; afelts@mobile.org