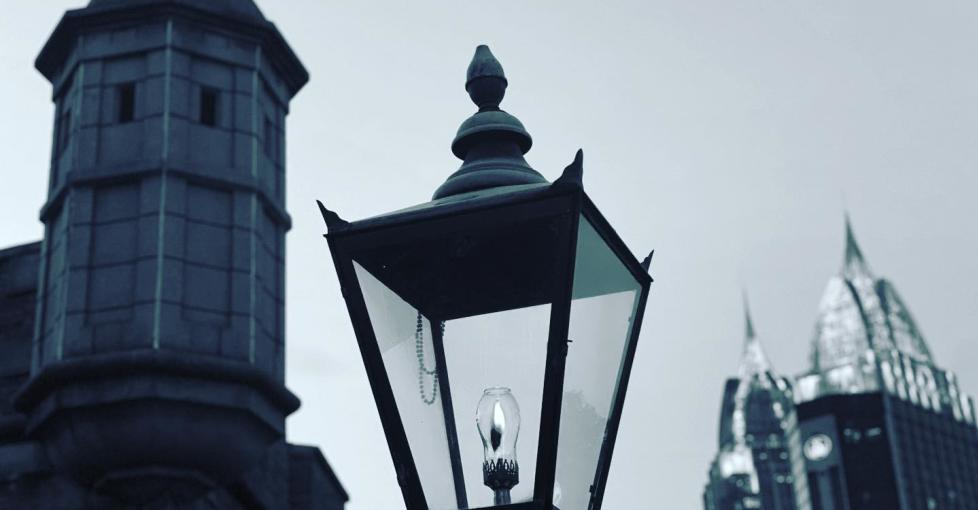 The dark side of Mobile's history has never tasted so good! Join Bienville Bites Food Tour for a spook-tacular haunted experience through Downtown Mobile full of delicious food, haunted landmarks, and frightening stories.
THE TOURS
Bites & Frights is a haunted experience that begins in a spooky historic building in Downtown Mobile, giving you a sneak peek at Mobile's newest event space. If you dare, you'll meet Mobilians from the past as they re-tell their stories of murder, execution and mysteries of their time. This three hour walking tour has the perfect lineup for experiencing Mobile's tasting cuisine and "spooky cocktails'' are included in the cocktail package!
Lupercalia Art Society — Take a peek inside the underground tunnels of Mobile. You never know what or WHO might be lurking underground.

Campo Santo — The grounds still hold some of Mobile's earliest residents.

The Social Experiment — Take a sneak peek inside Mobile's newest venue! This historic building has seen its share of scares!

The Battle House Hotel — This historic hotel is one of the most haunted hotels in America!

The Steeple — A church is usually a place of refuge, hear the story of death and destruction that occurred outside this church building.
During the Sips & Scares tour, you will enjoy dinner from four local restaurants in Downtown Mobile. This three hour walking tour begins at POST with a cocktail crafted specifically for this tour! Custom-made cocktails along with delicious food … is there a better way to enjoy fall?
Church Street Graveyard — Opened in 1820, the landmark graveyard tells the story of Mobile's past.

Boyington Oak — Friendship, a love story, murder, execution and a tree. Wait until you find out the story of the Boyington Oak!

St. Francis Street Apartments — You never know WHO you might see lurking out of the windows of this downtown apartment complex.

Creole Fire Station — This historic fire station is where Mobile's "Excelsior Band" got its start. Find out what else got its start here.
The limited time Haunted Hunt is a scavenger hunt that puts the fun into the most haunted city in Alabama! This self-guided tour takes guests on an interactive scavenger hunt that will have you solving spooky clues all over downtown Mobile. Wrap up the challenge with delicious beignets from Mo'Bay Beignet Co.!
---
Visit Mobile is committed to ensuring that our visitors Enjoy Mobile With Confidence. We are excited to welcome you back and hope you will visit us when the time is right for you!