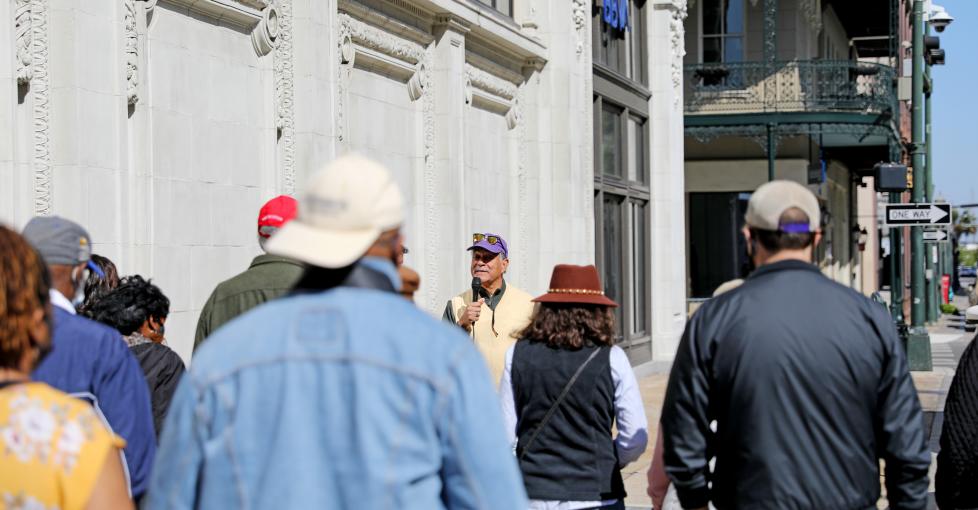 If you're planning a visit to Mobile this April, you're in for a treat. Our team at Visit Mobile has put together free walking tours through downtown every Saturday! What better way to start your weekend than with a morning stroll through our story filled streets during one of the most beautiful seasons to be outdoors? From learning about Mobile's rich African American history and the true founders of America's original Mardi Gras to discovering the wonders of the bustling waterfront, you're sure to enjoy one, or all, of these walking tours.
---
Tour Schedule:
April 1 - Architectural & Carnival Histories
Cart Blackwell, Mobile Carnival Museum
Mobile is known for historic architecture and Carnival celebrations. This tour will explore both the Port City's built environment and its greatest living tradition. Taking you into multiple National Register-listed districts, National Historic Landmarks, many mystic societies, and local cultural figures, the tour will embrace the best of Mobile's architectural bounties and Carnival culture. 
April 8 - I-10 Mobile River Bridge Archaeology Project
Rachel Hines, USA Archaeology Department 
Visit RV City site where they unearthed 300 years of history, spanning the colonial period through the 1960s.  Learn more about the project's findings and how it's contributing new insights to Mobile's past.
April 15 - Downtown Public Art 
Lucy Gafford, Mobile Arts Council 
Join the Mobile Arts Council for a Public Art Walking Tour throughout Downtown Mobile. We will discuss sculptures, murals, and more created in the early 1900s through the last year. Learn about the artists, their inspiration, and how their works contribute to telling Mobile's story. 
April 22 - Union Missionary Baptist Church & Old Plateau Cemetery
Derek Tucker, Pastor of Union Missionary Baptist Church
We'll visit the Old Plateau Cemetery, the final resting place of some of the Clotilda descendants. Then the historic Union Baptist Church of Plateau where we will learn the history of the church and hear songs that have been sung over the years.  
This tour will meet at Union Baptist Church, 506 Bay Bridge Road, Mobile, AL 36610.
April 29 - Historic Architecture
Meredith Wilson, City of Mobile
This walking tour of Fort Conde Village recounts the history of Mobile from the fortified capital of French Louisiana to bustling 19th-century port city.  Join us as we explore Mobile's storied past and gain a deeper appreciation of the varied architectural styles that make up the vibrant cityscape we see today.  
---
The tours will begin at 10 a.m. each Saturday, departing from Visit Mobile's Welcome Center (located inside the History Museum of Mobile) in Downtown Mobile, with the exception of the April 22 tour at Union Missionary Baptist Church. The tours will return around 11 a.m. and are free to the public. No reservations are required. For more information, contact us at pkieffer@mobile.org or mdorie@mobile.org.
Watch Visit Mobile's Michael Dorie talk more about the April Walking Tours on Fox10 News here.