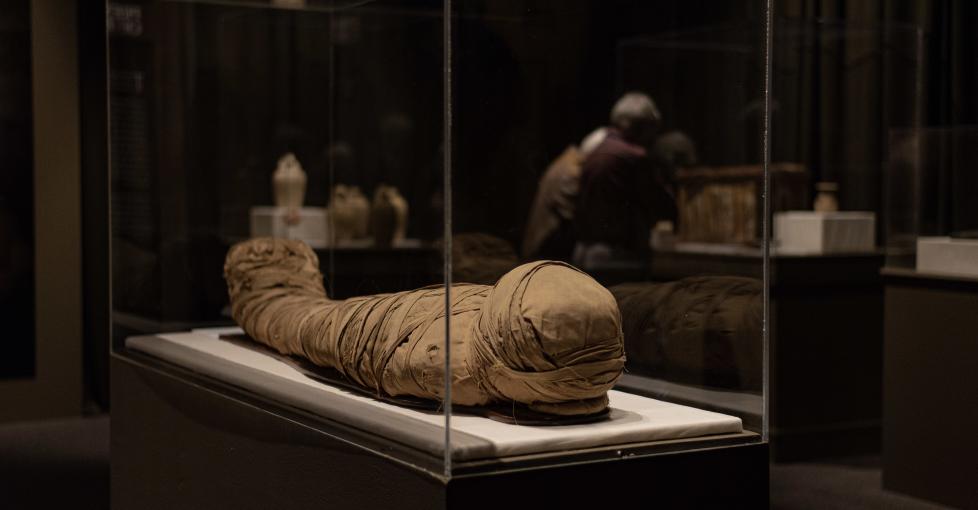 Mummies have arrived in Mobile! The History Museum of Mobile's newest exhibition Egyptian Mummies and Eternal Life (on view until June 27, 2021) has toured the world – but Mobile is the only city in America that is going to host the exhibition before it returns home to the National Archeological Museum in Florence, Italy. From real mummies, to beautifully painted sarcophagi, to the funerary objects in tombs, this exhibition is filled with authentic artifacts between 2,000 and 4,000 years old. 
What you might not see when you visit this exciting exhibition is all the behind-the-scenes work that goes into making it happen. Here are five things you might not know about installing an exhibition like "Egyptian Mummies and Eternal Life":
Gallery preparations begin months in advance. From laying out the exhibition to designing custom painting and lighting, our staff works for months – and sometimes more than a year – in advance to plan every aspect of the gallery. For this exhibition, we had to brainstorm, design, and build custom cases to accommodate the large sarcophagi. Before the exhibition arrives, we know exactly where each object will be placed!

The exhibition arrives on a refrigerated truck. Afterall, 4,000-year-old objects are delicate! This exhibition was previously on view in Halifax, so it crossed the Canadian border in a climate-controlled truck. Inside, each crate is custom-built to house and support a particular object. 

We train for this! The three members of the Collections and Exhibits Department at the History Museum train in handling art objects. They each have extensive experience and/or master's degrees in fields like archeology, collections management, or public history, so there's no guesswork when it comes to taking care of these ancient artifacts. 

A registrar verifies the condition of each object upon arrival. As objects are unpacked from crates, one at a time, it's the museum registrar's job to photo-document the condition of each object. The registrar and a representative from the loaning institution then sign an agreement that the object is in good condition. It's a lot of paperwork! 

The Museum carefully monitors temperature and humidity levels. This is true for the whole museum and for our storage spaces, too; our collection, as well as this traveling exhibition, have to be kept in a very narrow range of temperature and humidity levels in order to preserve the objects. It's something we watch carefully, especially as the seasons change, and we have lots of tools to quickly address any fluctuations outside the normal range.  
Stop by the History Museum of Mobile before June 27 to experience Ancient Egypt before it leaves the United States! The Museum is open Monday-Saturday from 9-5pm and on Sunday from 1-5pm. 
Guided tours are available for groups of 6 to 20 people! Gather a few friends, neighbors, family, your supper club, your Sunday school, or your civic group and contact Jennifer Theeck, Curator of Education (251.301.0270 or theeckj@historymuseumofmobile.com), to schedule a tour. Tours for school groups are available in person or virtually, too.