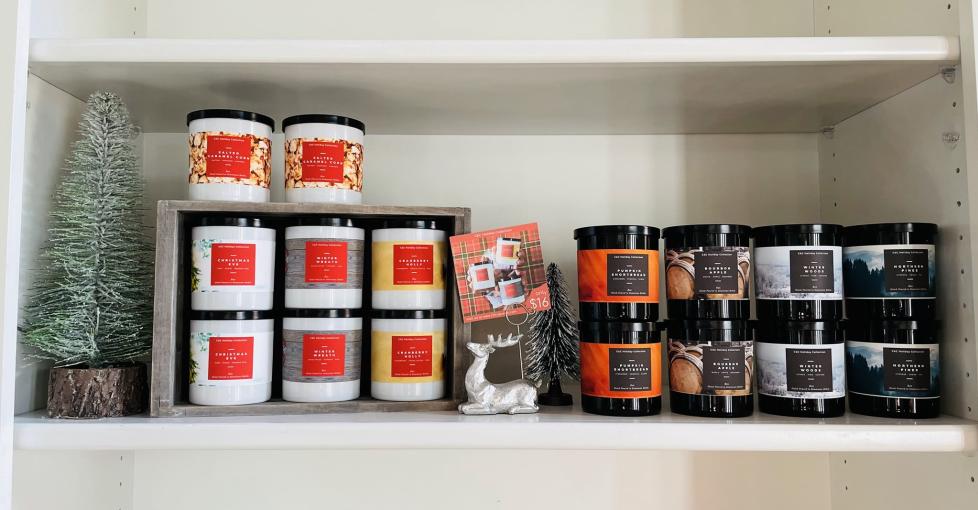 Make this year's Christmas gift something they'll remember by gifting treats and treasures found only in Mobile! This year, more than ever, supporting local, small businesses should be at the top of your list. Check out Mobile favorites that can be picked up in-store or shipped directly to your front door!
Citrus & Cane
https://citruscane.com
Hand-crafted home and body products made locally in Mobile, Alabama, by two passionate entrepreneurs! All candles are 100% soy wax, and body products are organic and vegan-friendly.
Mo'Bay Beignet Company
https://mobaybeignetco.com
Like always, we put a unique Mobile spin on everything and in our humble opinion, it's better that way! Mo'Bay Beignet is not only making Mobile sweeter one day at a time, but their beignet mix and signature sauces can be shipped right to your front door to help sweeten up any family gathering! 
Urban Emporium
http://www.urbanemporiummobile.com
You'll love the treasures you find at downtown Mobile's retail incubator. Urban Emporium offers an array of local, independent retailers featuring clothing, home accents, gifts, gourmet food and more!
Meat Boss
https://www.meatboss.com
In Mobile, we're the boss! And Meat Boss sauce belongs on everything. This will be the closest you get to having your meats taste like ours!
Mobtown Merch
https://mobtownmerch.com
Mobtown Merch was founded by native Mobilians obsessed with the vibrant city. Shirts and apparel channel Mobile's work hard, play hard vibe and shout it to the world.
Three Georges Candy Shop
https://3georges.com
Three Georges has an option for every chocolate lover in your life, from classic assortments to delectable mixed tins! Three George's has been serving the finest chocolates since 1917.
Panini Pete's Famous Beignets
https://www.paninipetes.com
As seen on Food Network, order Panini Pete's famous beignet mix and have it shipped straight to your door. Oh, don't forget to squeeze a lemon on top
Toomey's Mardi Gras Store
https://www.toomeysmardigras.com
As home to America's Original Mardi Gras, Toomey's houses one of the largest inventories of Mardi Gras supplies found anywhere. Celebrate our favorite holiday, any day, from anywhere!
ellenJAY
https://www.ellenjay.com
This boutique bakery is where modern design meets decadent flavor. Every cookie and cake is a labor of love, prepared by hand with impeccable attention to detail. The perfect addition to any holiday party near or far!
Carpe Diem Coffee & Tea Co.
https://www.carpe-coffee.com
We all know that the best part of waking up is putting Carpe Diem coffee in your mug! You can enjoy this staple Mobile flavor from anywhere, and in-house roasted beans will be shipped straight to your front door.
Murder Point Oysters
https://murderpointoysters.com
In Mobile, we like to say gulf-to-table because our seafood is just that fresh! But doesn't gulf-to-home sound good, too? Order fresh oysters and have them shipped to your front door just in time for your holiday gatherings!
The Haunted BookShop
https://www.thehauntedbookshopmobile.com
The Haunted BookShop is named after the beloved former bookstore from 1941 to 1991. This independent bookstore is located in the heart of downtown Mobile and features works from authors near and far! 
Sophellia Gallery
https://sophiellagallery.com
Sophiella Gallery is a fine art gallery in downtown Mobile with the objective of bringing the region's contemporary fine art and collectors together. The only thing your walls are missing is a beautiful work of art!
Bake My Day
https://www.bakemydaymobile.com
Recently named the Best Mail-order Cookies in the Southeast by Food & Wine magazine, Bake My Day will make your day … a little sweeter! Their delicious Southern, scratch-baked recipes will have you grinning from ear to ear on the first bite.

Feature photo: Cirtus & Cane 2020 Holiday Candle Collection