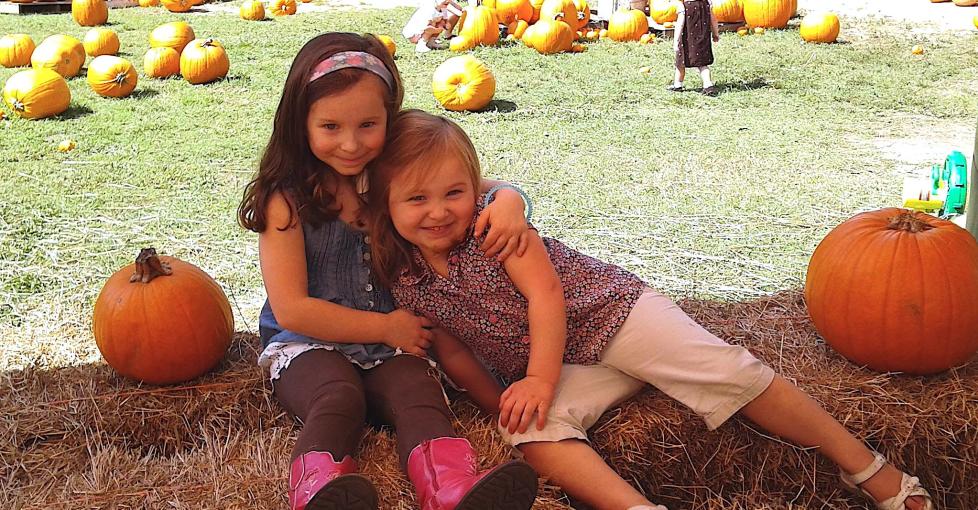 My family has always had an affinity for the outdoors. But our appreciation has grown even more over the past few years. When the temperature and the humidity start to drop, the skies turn that crisp deep blue, and a refreshing cool breeze hits our skin, it draws us outside to all the parks, seasonal celebrations, and festivities that Mobile has to offer. As a family with four girls ranging from teen to kindergarten, we have discovered that the autumn season in Mobile has something for families at every stage.
Christ United Methodist Church Pumpkin Patch
This simple and sweet church pumpkin patch is a delight to the eyes. It isn't fall for small children until you've skipped through a maze of pumpkins, big and small, and selected your very favorites to take home for yourself and maybe some for your friends. To my children, it was almost as if the pumpkins contained fanciful fall magic that, when purchased, they could bring it home with them. This patch has, of course, plenty of opportunities for those pumpkin keepsake photo ops!

Roll Mobile
Every second Friday this fall, Mobile has created the best throw-back to our own middle school days in the skating rink...but this time, they've taken it to the streets. Disco balls and lights twinkling, music pumping, and people of all ages coming out for a night of energy-filled, safe, and memory-making fun around and around the block of Bienville Square. My middle-school age girls have found this event to be just their speed (pun intended) as it allowed them the youthful activity of skating with a bigger and more independent venue where they could socialize and groove. This mom even tried out her own rollerblading skills, and I found out that I hadn't lost all of my coordination! And the fall breeze that hits you when you round the corner of Dauphin Street...just right. Don't miss the last Roll Mobile of the year on October 8!

Nature Trails
Every single child, young or old, needs a little adventure every now and then. Especially in the fall, our local historic and coastal habitats are the ideal place for creating this adventure. Our kids' imaginations roam with their feet when we have hiked and camped at Historic Blakeley State Park and Dauphin Island. The cooler fall months allow these types of outings to be all-day or all-weekend affairs. We especially love the Audubon Bird Sanctuary during October as thousands of migratory birds make their stop on Dauphin Island during their long journey. We bring our Peterson's bird identification book and look to the treetops for what we can spot. Birds aren't the only creatures we have found along the wooded and marshy trails...alligators, turtles, racoons, bunnies, and plenty of critters of all kinds are known to make their appearances in these scenic and biodiverse parks. If we get our energetic children to slow down a bit, we read some of the historic markers at Blakeley, sharing the interesting tales of the old Blakeley town and one of the last battles of the Civil War.
Halloween Festivities
Because ONE day of collecting treats and dressing in full costume could never be enough, we always enjoy participating in multiple Halloween festivities around town at the end of October! This year, we'll be attending Boo at Bellingrath! This event allows families to dress in their costumes and enjoy this spooky holiday among the lovely gardens of Bellingrath. There will be treats, pumpkins, stories, and a showing of "Hocus Pocus," a seasonal classic. Mobile Parks and Recreation will be hosting Mob-Tober Fest on October 30th at Medal of Honor Park. (My girls are already so excited about it!) This event follows the trail of treats all around the park and includes a family fun run, live music, vendors, food trucks, and games for all ages. Some of the smaller communities around Mobile also have local events that allow neighbors, family, and friends from the community to come out together for a memorable and safe gathering. Candy, costumes, food, friends, and entertainment...there really isn't too much better for the fam.
---
Visit Mobile is committed to ensuring that our visitors Enjoy Mobile With Confidence. We are excited to welcome you back and hope you will visit us when the time is right for you!