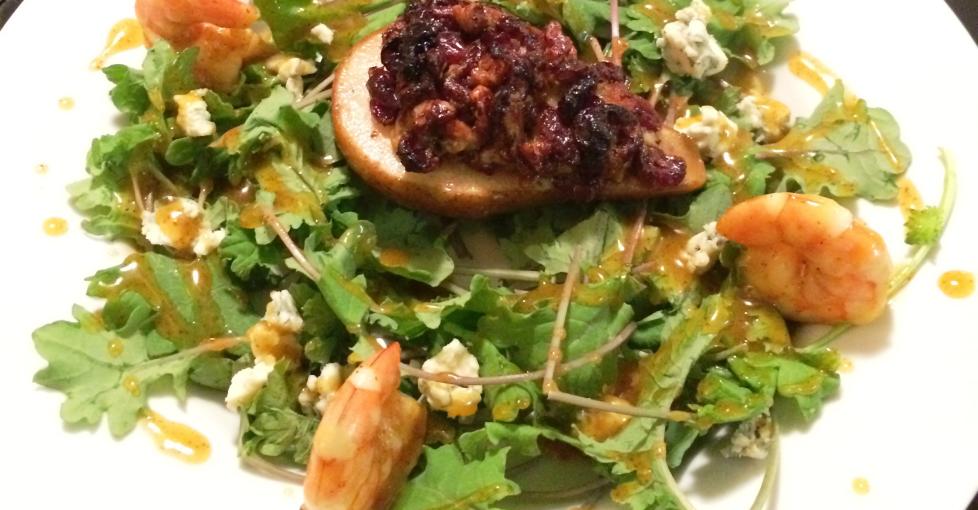 In Mobile, we love traditions.  So, when it comes to a holiday as traditional as Thanksgiving - we do it very well.
Menu items like smoked turkey with oyster dressing and sweet potato casserole are quite often the starting lineup in what can very easily be called our Food Super Bowl.
But, there's some superstars of the Thanksgiving feast that deserve a little extra attention. These superstars set the stage for the main course and then make your sweet tooth very, very happy at the end of the day. We have incredible restaurants and chefs. But, our locals know a thing or two about cooking and it's a little secret we've kept tucked away until now.
We've asked some of our locals to share these recipes just in time to be added to your Thanksgiving grocery list.So, get ready because we have five recipes that are so delicious and SO Mobile.
#1 The perfect cocktail.
  BOURBON TEA from Sara Copeland
Follow the directions to make a pitcher of tea. Once boiling, add in 1/2 cup of mint leaves and steep for 20 minutes or longer. The longer it sits, the better it will be.  Remove the tea bags and pour the tea along with all the mint leaves in a pitcher. Add 1 cup of frozen lemonade concentrate and 1 cup of your favorite Bourbon to the pitcher. Serve over ice and garnish with fresh mint and lemon.  Greet your guests with this southern cocktail!
#2 The palate pleaser.  
SHRIMP STUFFED MIRLITONS from Suzanne Graham
Preheat your oven to 350. Bring a pot of lightly salted water to a boil,  drop in 4 mirlitons (chayote squash) and boil for about 15 minutes, or until fork tender. Cut your mirlitons in half and remove the small seed. Then using a spoon, dig a hole in the middle of your mirlitons but be sure to save the chunks you have dug out.
Now chop 1 bulb of celery, 1 small onion, 1 bulb of garlic, and 2 small bell peppers. You can always add extra of anything,  there's no real wrong way to do this. Heat about a 1/2 stick of butter in a sautee pan. Throw in your veggies and cook about 10-15 minutes, or until they're as soft as you like.
Throw in 1 cup of peeled and deveined shrimp, 1/2 half of stick of butter, your saved mirliton centers and desired extra seasonings (I just used a dash of Greek seasoning). Cook until shrimp turn a bright white-pink, only a couple minutes. Turn your heat off and slowly add your breadcrumbs until your stuffing is as thick as you like. If you add too much or it's too dry just add some melted butter. 
Lay your mirlitons in a baking dish, one with high sides works best so you don't spill. Next, just spoon your stuffing equally between the 8 halves. Pop them in the oven for about 20 minutes, or until your stuffing turns a nice golden brown. You can always pop them in the broiler for a minute for extra crispness.  Plate them up and serve!
#3 A starter they'll remember.
ROASTED FALL VEGETABLE SOUP from Kinnon Phillips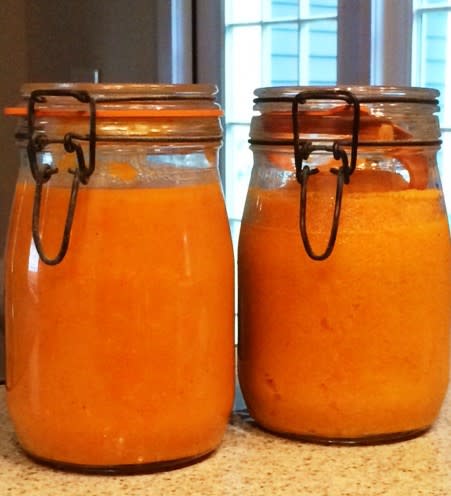 Preheat oven to 425 degrees. Cut 1 pound of carrots, parsnips, sweet potatoes and butternut squash into 1 to 1 ¼ inch cubes. All the vegetables will shrink while baking, so do not cut too small. Place all of the cut vegetables in a single layer on two sheet pans. Drizzle them with olive oil, salt and pepper. Toss well. Bake for 25 to 30 minutes until all vegetables are tender, turning once with a metal spatula. Sprinkle with 2 tablespoons of parsley once you take it out of the oven.
In a large saucepan, heat 6 cups of chicken stock. In two batches, coarsely puree the roasted vegetables and 6-8 cups of chicken stock in a food processor. Thin with more chicken stock and reheat. The soup should be thick but not like a vegetable puree, so add more chicken stock until it's the consistency you like.   You can make this ahead of time and reheat - it tastes even better. Then, ladle into bowls and serve!
#4 A first-class first course.
ROASTED PEAR SALAD from Jessy Young
Preheat the oven to 375 degrees. Using a melon baller or spoon to remove the core and seeds from 3 ripe Bartlett pears. Trim a small slice away from the rounded bottom of each pear half so they will sit in the baking dish without rolling around.
Toss the pears with 1/2 cup of lemon juice to keep them from browning. Place pears, core side up, in baking dish. In a small bowl, combine 3 oz. blue cheese crumbles, 1/4 dried cranberries and 1/4 cup walnut halves that are toasted and chopped. Divide the mixture evenly among the pears, mounding it on top of the indentation.
In another bowl, combine 1/2 cup Apple Cider, 5 tbsp. pear infused vinegar (you can sub white wine vinegar) and 4 tbsp. light brown sugar. Stir to combine all ingredients. If the cider is warm the sugar will dissolve easily. Pour the mixture over and around the pears and bake for 30 minutes, or until tender. While baking, occasionally spoon some of the basting liquid over the pears.Remove from oven and let cool slightly. In a 3" skillet, bring 1 cup of salted water to a boil.
Place ½ lbs of fresh gulf shrimp (approx. 28 count) peeled and deveined in boiling water then steam for 5-7 minutes. Once cooked, remove from skillet and set aside for plating. In a large bowl, whisk 1/4 cup olive oil, 1/4 cup of the basting liquid, 2 tbsps of the pear infused vinegar, 1 tbsp brown sugar and 1 tbps of coarse ground mustard. Toss well with baby kale. Divide the kale among 6 small plates and top each with a pear. Drizzle each pear with any excess basting liquid and top with four shrimp. Season with salt and pepper and serve!
#5 The grand finale.
OOEY GOOEY PUMPKIN CAKE from Jocquise Robinson
Preheat oven to 350 degrees. Lightly grease a 13x9x2-inch baking pan. Combine your favorite spice cake mix, 1 egg, 1/2 cup of butter and mix well. Press into the bottom of prepared pan. Mix 1 cup of pureed pumpkin, 1 tsp of pumpkin spice, 8 oz of cream cheese, 1 teaspoon of vanilla, 16ox of confectioner sugar and 1/2 cup of butter and spread evenly onto cake mixture. Sprinkle chopped pecans on top. Bake for 40 to 50 minutes. The center should be soft.  Remove from oven and allow to cool completely. Cut into squares -and serve!
So there you have it. Add one or all of these dishes to your Thanksgiving feast and you'll have some very satisfied and full guests. From our family to yours, have a happy and SO MOBILE Thanksgiving.