Experience the City...
Stay in the City
Experience genuine Southern Hospitality throughout the city of Mobile with hotels to fit every taste and budget. Choose from 4 Diamond Hotels, boutique hotels, or International Collections including; Renaissance, Curio and Autograph. Explore a vibrant urban scene with ample lodging with an electric cuisine scene; sprinkled with locally owned restaurants & cafes, museums, art galleries, nightlife, shopping, concerts, waterfront eco-tours and paddle boat cruises. Come to Mobile and stay in the city to experience the city.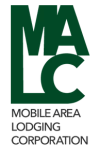 The Mobile Area Lodging Corporation (MALC) was created to support the Tourism Improvement District Ordinance adopted by the Mobile City Council on May 19, 2020.
Learn more at MobileAreaLodgingCorporation.com