Reese's Senior Bowl
The Path to the NFL Draft starts in Mobile, and you won't want to miss it! The Reese's Senior Bowl is a game like no other showcasing the country's best senior collegiate football players and top NFL draft prospects. It is a week packed with opportunities to see your favorite players as they show up and show out in preparation for the draft.
THE PATH TO THE DRAFT

Since 1951, the Senior Bowl has been headquartered in Mobile, AL. Hall of Famers have walked the streets of downtown for decades and experienced the culture and cuisine that makes us the city born to celebrate. From the Mardi Gras style parade to the gameday fan experience, join in the fun and become a part of a winning tradition.
GAME DAY: Saturday, February 3, 2024
TIME: TBD
WHERE: Mobile, Alabama
STADIUM: University of South Alabama, Hancock Whitney Stadium
TICKET QUESTIONS: ticketinfo@seniorbowl.com
Are you rolling with the Tide or cheering on the Tigers? Don't miss A Stage Divided: A Night with Tide and Tiger Legends, Thursday, February 2nd. The annual Senior Bowl Summit brings together Alabama and Auburn greats on stage for a memorable night as you listen to the best stories about their greatest moments as members of the Tide and Tigers. This event will be moderated by famed NFL® historian and Mobile native Ivan Maisel and comedian Joey Mulinaro.

 

More information about the submit can be found at https://www.seniorbowl.com/fan-events/game-week/

Take part in the Mardi Gras season by joining the teams on the parade route from the Renaissance Hotel on Royal Street and then west on St. Francis past Bienville Square for the annual Mardi Gras player parade Friday, February 2nd. Take pictures with the players and give them a high-five on the parade route, see college mascots, local dignitaries, and NFL cheerleaders! For more details visit https://www.seniorbowl.com/fan-events/game-week/

 

After the parade, join the FREE downtown concert located at Mardi Gras Park. Last year featured NELLY! Who do you think will be in Mobile in 2024?

Saturday, February 3rd, join the fun on-campus for game day. Enjoy tailgating, Senior Bowl Fan Fest, Southern University's "Human Jukebox",  Senior Bowl Team Walk, and the 75th annual Senior Bowl kicking off at TBD.

Over HALF the stadium is sold out and tickets are selling fast. Purchase your tickets now at www.seniorbowl.com/tickets.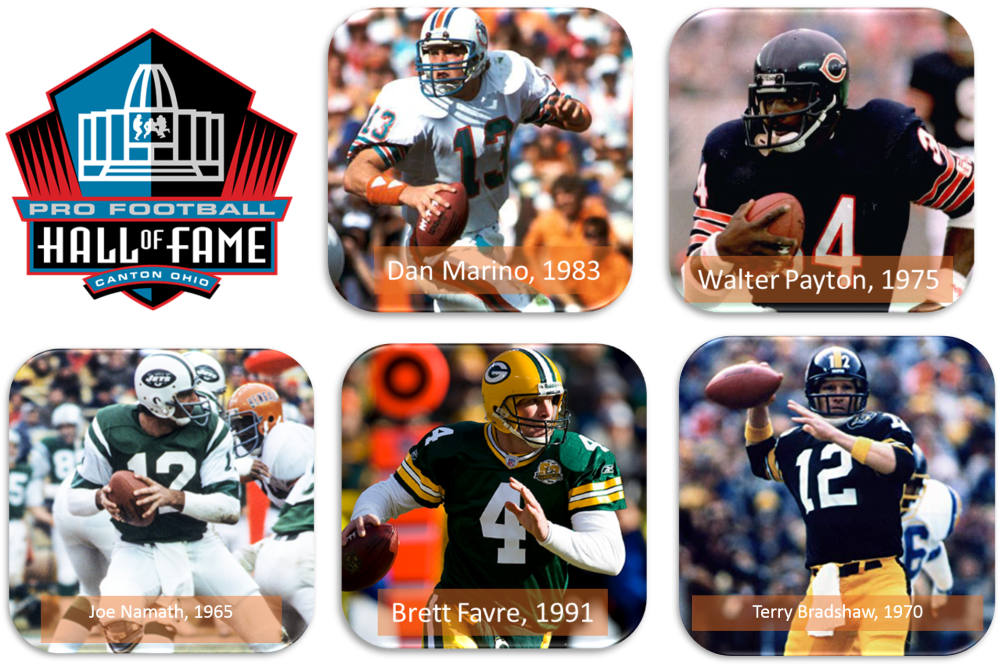 The Reese's Senior Bowl and The Hall of Fame Since 1974 Senior Bowl and Draft Year
John Stallworth  WR  1974 | Lynn Swann  WR  1974 | Mike Webster  OL  1974 | Robert Brazile  DL  1975 | Fred Dean  LB  1975 | Walter Payton  RB  1975 | Steve Largent  WR  1976 | James Lofton  WR  1978 | Ozzie Newsome  TE  1978 | Kellen Winslow  TE  1979 | Art Monk   WR  1980 | Rickey Jackson  LB  1981 | Morten Andersen  K  1982 | Dan Marino  QB  1983 | Chris Doleman  DL  1985 | Dermontti Dawson  OL  1988 | Randall McDaniel  OL  1988 | Thurman Upshaw  RB  1988 | Derrick Thomas  LB  1989 | Brett Favre  QB  1991 | Aeneas Williams  CB  1991 | Michael Strahan  DL  1993 | Larry Allen  OL  1994 | Derrick Brooks  LB  1995 | Curtis Martin  RB  1995 | Brian Dawkins  DB   1996 | Terrell Owens  WR  1996 | Jason Taylor  DB   1997 | Brian Urlacher  LB  2000 | LaDainian Tomlinson  RB  2001