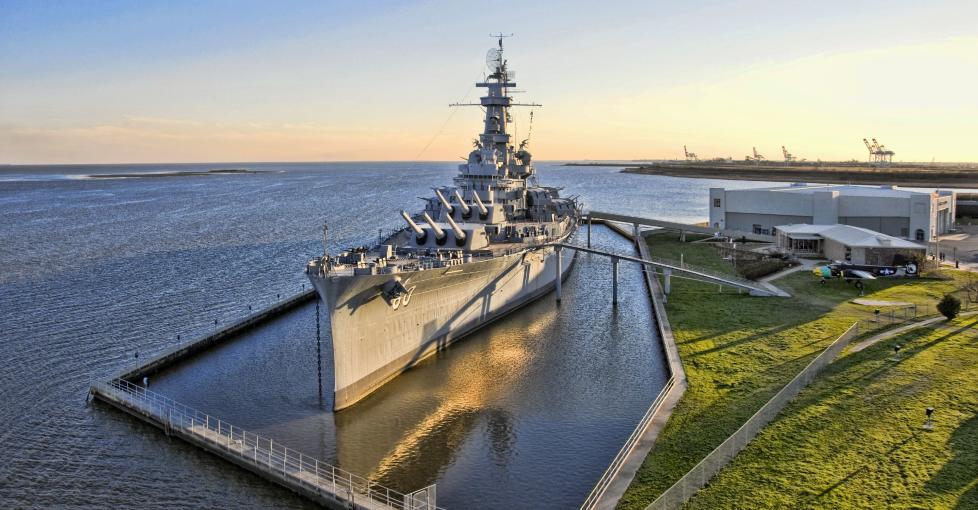 SWEET HOME ALABAMA
After checking in to my hotel — The Admiral in downtown Mobile — I drove off in search of the USS Alabama (ussalabama.com), which is the main (not only) attraction at Battleship Memorial Park on Mobile Bay.
The Alabama, a Second World War-era battleship that was commissioned in 1942 and saw action primarily in the Pacific Theatre before being decommissioned in 1947, is an intimidating presence despite its mooring in Mobile. As a military history buff, I could have spent the entire day meandering through the famous warship — it was used as the set for 'Under Seige' and a handful of other movies — and taking in the sights around the park, including a submarine (USS Drum) and multiple warplanes and armoured fighting vehicles.
Dinner that night was at Wintzell's Oyster House, another favourite of locals since opening in 1938. Nothing beats a meal of chargrilled oysters (again!) and red snapper.
Before leaving Mobile, I stopped into the city's Carnival Museum (mobilecarnivalmuseum.com), a huge space dedicated to the area's annual Mardi Gras celebrations that opened in 2005. Legend has it the first Mardi Gras parade took place in Mobile in 1711, not New Orleans, but that historic fact is often disputed. You could spend hours in the Museum, which has artifacts that date back to the start of Mardi Gras celebrations and displays featuring the trains (some weigh upwards of 80 pounds) and crowns of Mardi Gras monarchs.
A stroll around downtown Mobile — the city is easily walkable with plenty of things to see but trolley tours are also available — wrapped up my itinerary in Alabama's third-largest city.
First published by the Toronto Sun. Read the full story here.