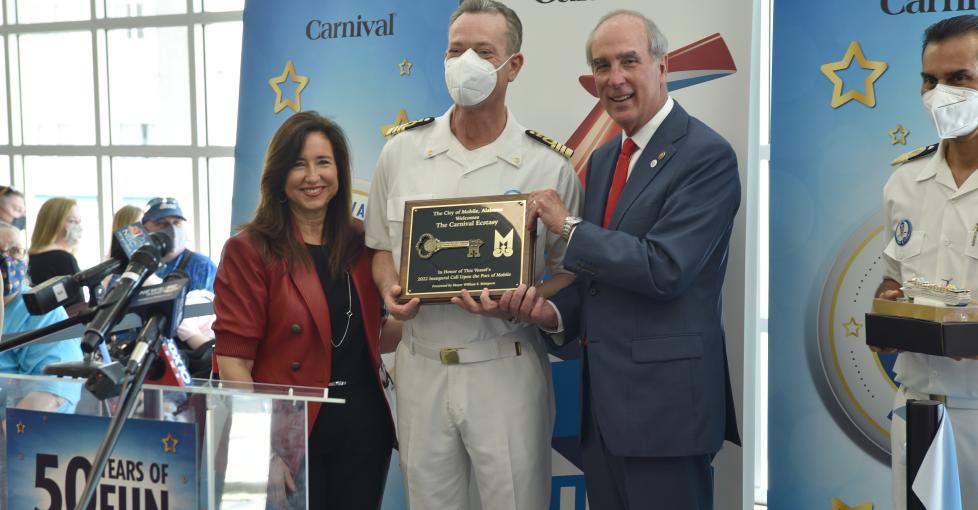 CARNIVAL CRUISE LINE RETURNS TO CRUISING FROM MOBILE
 WITH CARNIVAL ECSTASY
First Cruise Ship to Sail from Port of Mobile in Nearly Two Years; 
Line Announces Carnival Spirit Will Bring New Cruise Program to Mobile in Fall 2023 
---
MOBILE, March 5, 2022 – Continuing its successful restart, Carnival Cruise Line resumed guest operations today from Mobile, Ala. with Carnival Ecstasy.
Carnival Ecstasy guests will enjoy a five-day Western Caribbean cruise with a stop in Cozumel that is part of the first cruise ship to depart from Mobile in nearly two years. Carnival Ecstasy's cruise today  is also the kickoff of the line's Sailabration festivities which celebrates Carnival's 50th Birthday.
To commemorate the special day, Carnival Cruise Line President Christine Duffy and Mobile Mayor Sandy Stimpson hosted a "Back to Fun" and 50th Birthday event at the Mobile Alabama Cruise Terminal, cutting a ceremonial ribbon and officially welcoming the first guests on board.
During the event, Carnival also announced its future plans for Mobile. The line will introduce a new seasonal six- and eight-day cruise program from Mobile beginning Oct. 6, 2023 through March 30, 2024 with Carnival Spirit. Spirit's new Eastern and Western Caribbean itineraries will stop in Bimini, Half Moon Cay and Mahogany Bay, among other ports. These sailings will open for sale on Wednesday, March 9.
"We are committed to our continued relationship with Mobile which is why we are excited to be back to the fun with Carnival Ecstasy and we look forward to Carnival Spirit's arrival in 2023," said Christine Duffy, president of Carnival Cruise Line. "Aside from Carnival Spirit being a newer and larger ship for Mobile – meaning even more fun to be had on board – Spirit's new itineraries will give our guests the opportunity to visit new beautiful destinations." 
"For more than a decade, cruises out of Mobile have brought countless visitors to our city from across the Southeast — providing a boost to our hotels, restaurants, attractions and dozens of other local businesses in the surrounding region," Mobile Mayor Sandy Stimpson said. "Simply put, Mobile's economy is not operating to its full potential without a cruise ship in its harbor. We are fortunate to have had a great partnership with Carnival Cruise Line for several years, and as we celebrate Ecstasy's departure today, we look forward to many more." 
"We have certainly missed seeing that iconic funnel in our downtown skyline and welcoming cruisers from across the country to Mobile these past two years, so we are so ready to get Back to Fun as our partner, Carnival Cruise Line, returns to the Port of Mobile," added  David Clark, president and CEO of Visit Mobile. 
Carnival Cruise Line and Mobile have enjoyed a partnership since 2002 when Carnival began offering  a short series of cruises from Mobile.  In 2004, Carnival introduced its first year-round program from Mobile, which was later expanded with the larger 2,052-guest Carnival Fantasy and then replaced with the same size Carnival Elation.
Since the dedication of the Mobile Alabama Cruise Terminal in 2004, Mobile has been twice named Carnival's "Port of the Year". At the height of operations in 2019, 2,508 guests were sailing from Mobile on each cruise for an annual total of 187,013 total cruisers from the port.
Carnival Ecstasy sailings from Mobile include four- and five-day Western Caribbean itineraries through Oct. 10, 2022 with four-day cruises visiting Cozumel and five-day cruises visiting Cozumel and Costa Maya or Yucatan (Progreso). Carnival Ecstasy will also operate a 10-day Carnival Journeys Caribbean cruise leaving on Sept. 12, 2022, visiting Key West, Grand Turk, Amber Cove, Grand Cayman and Cozumel. Ecstasy's Oct 10, 2022 voyage will be its last in guest operations, as the line has announced the ship will leave its fleet. 
As part of Carnival's year-long 50th birthday celebrations, 17 commemorative birthday Sailabrations cruises are sailing through March 10, 2022. They feature at-sea ship meetups, special entertainment and programming. In addition to the Sailabration cruise from Mobile, other Sailabrations cruises departed today from Galveston, Texas; Miami; New Orleans; Port Canaveral, Fla.; and Tampa, Fla.
With the restart in Mobile today, and Jacksonville, Fla. on Monday, March 7, Carnival will have all its year-round homeports opened, and then its entire fleet will be back in service by this summer, completing an impressive and successful restart of its guest operations and setting the pace for the rest of the U.S. cruise industry. Carnival started its operations with one ship from PortMiami in 1972 and has since grown into the world's most popular cruise line with a total of 23 ships carrying more than six million guests annually and employing more than 40,000 team members from 120 nationalities.
For additional information on Carnival Cruise Line and to book a cruise vacation, call 1-800-CARNIVAL, visit www.carnival.com, or contact your favorite travel advisor or online travel site.
###
ABOUT CARNIVAL CRUISE LINE
Carnival Cruise Line, part of Carnival Corporation & plc (NYSE/LSE: CCL; NYSE: CUK), is proud to be known as America's Cruise Line with a total of 23 ships, sailing from 14 U.S. homeports and employing more than 40,000 team members from 120 nationalities. Carnival's newest ship, Mardi Gras, featuring the first roller coaster at sea and the first in the Americas powered by eco-friendly Liquefied Natural Gas (LNG), sailed from Port Canaveral, Fla., July 31, 2021. As part of its 50th Birthday festivities, Carnival Celebration, sister ship to Mardi Gras, is scheduled to debut in late 2022 from PortMiami, as well as Carnival Jubilee from Galveston in 2023.
MEDIA CONTACT: