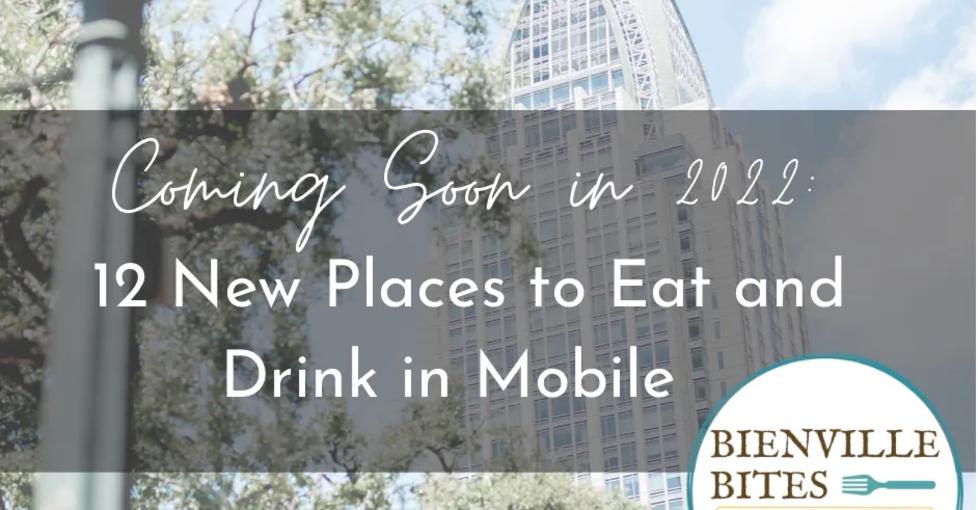 1. West Food Bar
69 St. Michael Street
West Food Bar plans to open in early 2022 at the former Von's Bistro location at 69 St. Michael Street. Chef Weston Simpson plans to serve a menu full of Gulf Coast favorites with a great selection of wines and cocktails. 
2. Knuckle Bones Co.
202 Government Street
Knuckle Bones Co. is slated to open in early 2022 across from Government Plaza. Drinks from locally roasted espresso beans and homemade pastries during the day to craft cocktails and charcuterie small plates in the evening. This modern lounge combined with their event space, The Social Experiment will infuse much needed new vibes to downtown Mobile with their dark, moody, eclectic interiors.
3. The Insider – A Collective Eatery
518 Dauphin Street 
The Insider is Mobile's first food hall. A food hall concept will house multiple restaurants under one roof on Dauphin Street. PS Taco Co. and The Outsider Sports Lounge will join others when they open in the spring of 2022. Expect a variety of different foods and a bar on the sidewalk of Dauphin Street. 
4. Bistro St. Emanuel
200 St. Emanuel Street
The Fort Conde Inn just recently completed renovation of a long vacant historic home in Fort Conde Village. Bistro St. Emanuel is now open for breakfast daily from 7-10am. Plans are in the works to have dinner service and brunch in this newly opened restaurant. 
5. Oyster City Brewing Co.
600 Government Street
Oyster City Brewing Co. is now open to start the new year! OCBC recently opened their doors in the former Serda's Brewing on Government Street after a soft opening at the end of December. Beers are brewed on site and expect to be a great addition to the brewery scene in Mobile. 
6. Box Owt
265 Dauphin Street 
Box Owt is a new concept coming to Downtown Mobile as an outdoor multi-dining facility. This facility will help food truck operators and restauranteurs set up under one roof. A soft opening is planned during Mardi Gras and permanent opening later this summer. 
7. Nova Market
1812 Old Shell Road
Nova Espresso is a local favorite on St. Anthony Street, soon they will be a midtown favorite at the new Nova Market beside the Dew Drop Inn. The new location will include a craft coffee bar, curated market, and an eatery. It's expected to open in early 2022.
8. Ice Kreme KONEction
720 Schillinger Road S #9
The newest ice cream shop in Mobile has opened in West Mobile. In addition to hand scooped ice cream they also serve gelato, sundaes, shakes, and frappes. They are newly opened near Target. 
9. SOCU Coffee
456 Dauphin Street 
SOCU is expanding directly across the street from their flagship location on Dauphin with SOCU Coffee. They plan to serve coffee and espresso in addition to desserts such as pies, cakes, pralines, and more. They plan to open in early 2022. 
10. Kanary Bar
105 N. Jackson Street
Kanary Bar is the newest bar to open in Downtown Mobile. Serving handcrafted cocktails and wine, Kanary Bar just opened in December. They are located just steps away from the new Greer's St. Louis Market. 
11. Sporty T's Steakhouse Sports Bar and Grille
157 Dauphin Street
A new steakhouse/sports bar has announced their opening in Downtown Mobile at a former clothing store across from Bienville Square. The menu plans to serve a variety of hot dogs, sandwiches, and burgers in addition to steaks. No announcement has been made on an opening date. 
12. Barbquing With My Honey
2617 Dauphin Street
Barbquing With My Honey just celebrated the  grand opening of their second location in Mobile. Now open in midtown Dauphin Street beside the railroad tracks at the former Island Wing Co serving ribs, wings, burgers, and more. 
Rumors:
Three rooftop restaurants/bars are in the works in Downtown Mobile. A rooftop restaurant/bar beside POST on Dauphin Street is being planned, NXT LvL Skybar above B Bob's on Conti Street, and the Haberdasher plans to renovate their upstairs for seating overlooking Dauphin Street and Bienville Square. 

The former Moon Pie Store in the RSA Trustmark Building is leased by a local restauranteur with plans to come later. 

The Haunted Book Shop plans to move to a new location near the Saenger Theater that will have a small coffee shop attached inside. 

A bourbon Tasting room has been rumored to be coming soon in Downtown Mobile.