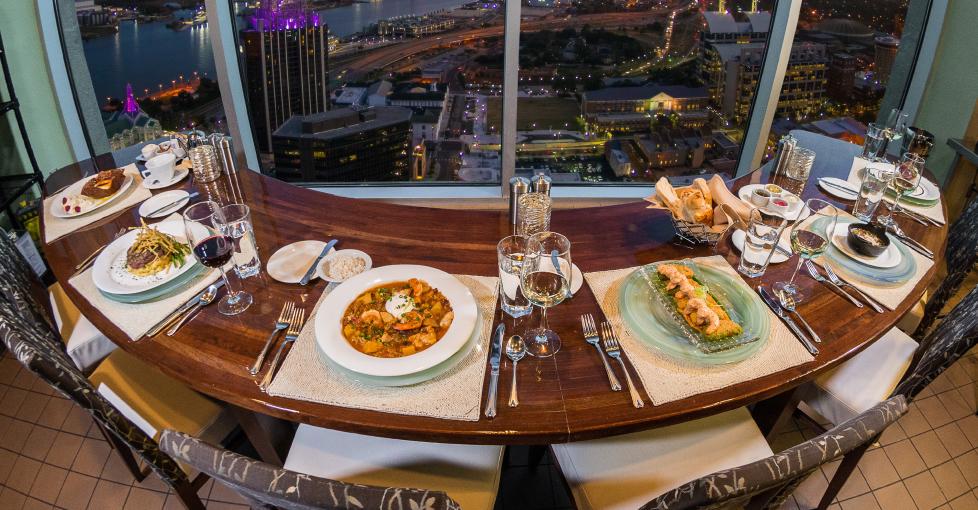 DAUPHIN'S REOPENS JUNE 15TH FEATURING NEW MENUS
AND AFFORDABLE LUNCH OPTIONS
Dauphin's Fine Dining in Downtown Mobile, AL. announces its reopening
on Monday, June 15, 2020, with all new menus and affordable lunch prices.
MOBILE, AL (June 9, 2020): Dauphin's Fine Dining restaurant located in Downtown Mobile on the 34th floor of the Trustmark Bank building announces its reopening after its temporary closure due to COVID-19 on Monday, June 15, 2020 for lunch and dinner as well as happy hour specials in the Bar424 lounge. Along with its reopening, Dauphin's is also debuting all new menus including an affordable lunch menu with all items under $13 and a complimentary iced tea.
Known as the Heart of Mobile, Dauphin's sits 424 feet atop the Trustmark Bank Building with panoramic views of the Mobile Bay and the surrounding downtown revival and features a menu with hints of Caribbean and Creole soul mixed with classic coastal cuisine perfect for any occasion. "Upon our reopening, we wanted to create a new menu that makes Dauphin's the premier dining experience in Mobile for all occasions, whether it's a date night, family dinner, or a special celebration," says owner Bob Baumhowever. "We've even revised our lunch menu to include affordable options that are perfect for our downtown neighbors to enjoy on their lunch break."
Dauphin's reopens on Monday, June 15th at 11am for lunch with dinner beginning at 4pm. Happy Hour is available Monday through Friday from 3pm to 6:30pm in the Bar424 lounge.  Guests can also enjoy Dauphin's Sunday Jazz Brunch from 11am to 3pm every Sunday. To view our new menus and make reservations, visit www.godauphins.com.
###
About Dauphin's
Ranked as the Best Restaurant in Mobile County by AL.com, Dauphin's, an Aloha Hospitality concept, is the premier fine dining restaurant located in Downtown Mobile atop the Trustmark Bank Building with panoramic views of Mobile Bay and the surrounding area. With a menu featuring classical coastal cuisine with hints of Creole and Caribbean flavor, Dauphin's offers something special for every guest and every occasion from the dining table to the Bar424 lounge. Dauphin's also features the Bay's first and only in-kitchen Chef's Table with our award-winning culinary team. For more information on Dauphi's, visit www.godauphins.com.
About Aloha Hospitality
From consulting services to culinary innovation, for more than 35 years Aloha Hospitality has served up both a passion for food and the commitment to excellence that CEO and Owner Bob Baumhower learned in his playing days with the Alabama Crimson Tide and Miami Dolphins. Aloha Hospitality is known for its classic to cutting-edge dishes with a commitment to high quality, locally-sourced ingredients and, above all, a Legendary guest experience. Aloha Hospitality is the parent company of Baumhower's Victory Grille, Dauphin's, Las Floriditas, and Wingfingers. For more information, visit www.alohahospitality.com.