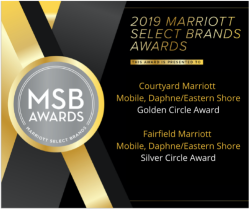 Spanish Fort, AL – The Courtyard and Fairfield Marriott hotels located on the Eastern Shore in Spanish Fort, Alabama have both earned Marriott's top awards for outstanding guest satisfaction scores.   Announced in late December 2020 for the year of 2019, Courtyard Marriott won Marriott's Golden Circle Award and its sister hotel the Fairfield Marriott won the Silver Circle Award for select service brands.
This is Courtyard Marriott's second year in a row to earn gold.  Gold status is designated for hotels scoring in the top 10% and Silver awards are earned by the hotels ranked among the top 20% of their respective brands nationwide based on intent to recommend scores in guest surveys.  Courtyard ranked #90 out of 1,092 Courtyard branded hotels nationwide earning gold status.  Fairfield ranked #188 out of 1,014 hotels landing in the top 20%  for silver status.
ABOUT COURTYARD AND FAIRFIELD MARRIOTT MOBILE, DAPHNE/EASTERN SHORE
Courtyard and Fairfield Marriott are owned and operated by Encore Enterprises of Dallas, Texas.  They offer a combined 174 stylish and up-to-date guest rooms and 675 sq ft of meeting space which were renovated in 2017. In addition to providing guests with award winning hospitality and high cleanliness standards, the hotels offer a convenient location for travelers off I-10 Daphne/Fairhope exit 35A which is just minutes from downtown Mobile. It's a quick commute to top companies, attractions, dining and shopping on both sides of Mobile Bay and therefore is a popular spot for both leisure and business travelers alike.