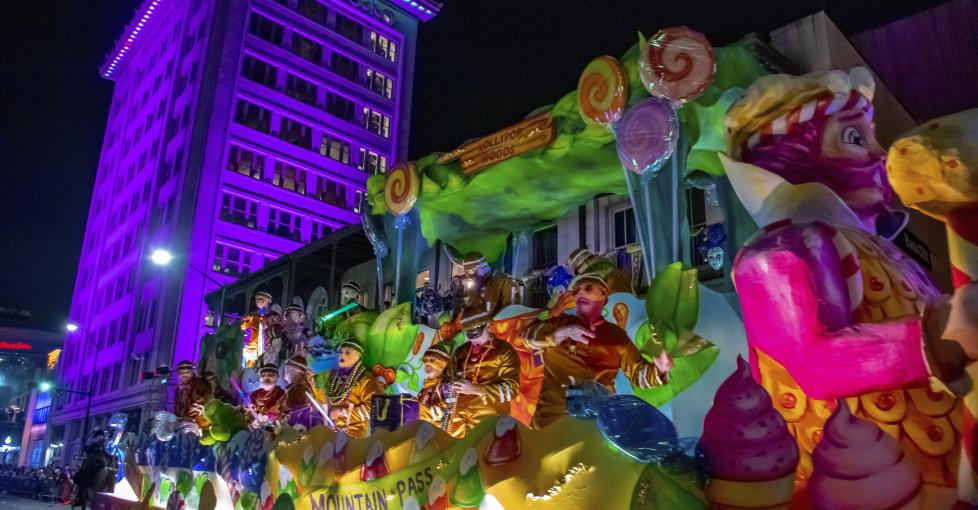 You may think of the "Big Easy" on Fat Tuesday, but other towns throughout Louisiana and the wider Gulf Coast play host to raucous celebrations
Mobile is considered by many to be the birthplace of Mardi Gras, a tradition that began around 320 years ago when a group of French soldiers decided to have their own impromptu celebration in Alabama's port city. Less than a decade later, they were parading down Dauphin Street in the center of town, pulling a giant bull's head on wheels. Of course, New Orleans has its own origin story, and it's this city that has taken Mardi Gras celebrations to a whole other level. "The two traditions are distinctive," says Blackwell. For example, rather than krewes, Mobile has mystic societies that serve a similar purpose. "Yet they completely complement one another," he adds.
Mobile, Alabama
Unlike New Orleans' Mardi Gras parades, which take place throughout the city's many neighborhoods and its greater surrounds, "All of our stuff is downtown," says Blackwell. "It's like a Broadway show unleashed on the streets."
The Mobile Mask guide lists a complete rundown of upcoming events, though one not to miss is Joe Cain Day, which takes place annually the Sunday before Fat Tuesday. Cain was one of the main people credited with reviving Mobile's Mardi Gras celebrations after the Civil War. Although he died in 1904 and was buried in Mobile County's Odd Fellows Cemetery, a local novelist arranged to have Cain's remains relocated to the city's Church Street Graveyard in 1966, accompanied by a brass band procession. Now, anyone can partake in the yearly Joe Cain procession, which typically follows a graveyard gathering in which Cain's grieving Merry Widows (dressed in all black) and much more upbeat Mistresses (dressed in all red)—both a part of the day's traditional festivities—spend some time hurling mock insults at one another.
Fat Tuesday parades kick off at 10:30 a.m. with the Order of Athena, the only women's group to parade on Mardi Gras in Mobile, and conclude with the city's oldest continuous Mardi Gras parading group, the Order of Myths, who've been hitting the streets since 1868. Keep an eye out for their emblem float, which always includes a jester-dressed "Folly" chasing "Death" (recognizable by his skeleton suit) around a Greek-style column.
When it comes to throws, Moon Pies are a Mobile favorite. Chocolate is probably the most popular flavor, though vanilla, banana and the rare coconut Moon Pie are hot commodities as well.
First published by Smithsonian Magazine. Read full story here.