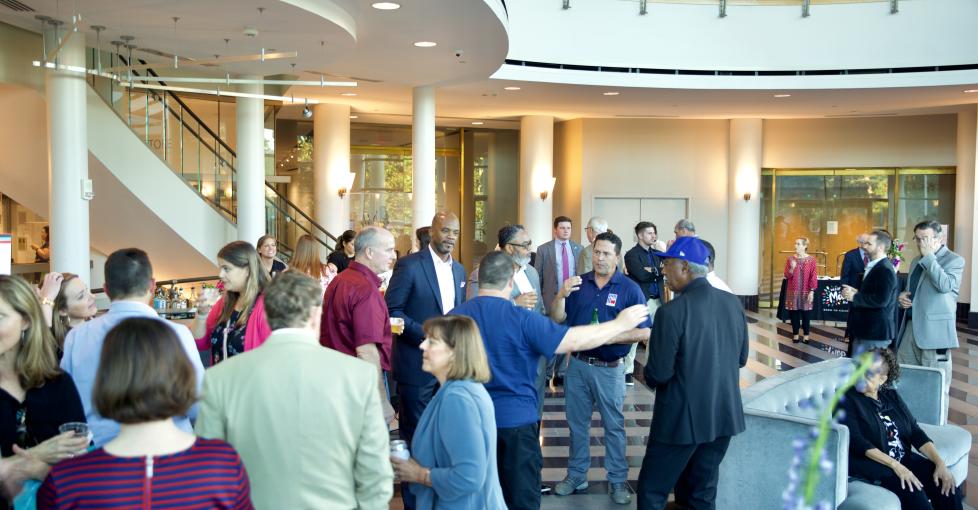 Mobile, Ala. (Nov. 7, 2022) — Visit Mobile held its 2021-2022 Annual Business Meeting and Celebration this past Thursday at the Mobile Museum of Art to share the State of Tourism in Mobile, present the annual MOBie Awards, and unveil key initiatives the bureau is leading, such as a new marketing campaign. 
"This past year was a year of sustained rebuilding. While we are not quite recovered from pre-pandemic levels with all metrics, we have seen a strong positive trajectory for 2021-2022 and beyond," said David Clark, president and CEO of Visit Mobile. "Working with all of our industry partners, we welcomed a return to a sense of normalcy. We saw a safe return of events and an encouraging uptick toward pre-pandemic metrics, including increased hotel rooms booked, meetings and conventions held, and visitation progress."
"People are traveling again and are choosing to meet in and visit our destination," said Patty Kieffer, vice president of convention and leisure sales. "That is evident as our team sold a record-breaking 110,500 future convention room nights this year alone. I'm proud of our team setting new records and working daily to secure new and returning convention business for our city."
In addition to celebrating the past year's success, the bureau also announced its 2022-2023 marketing campaign. The new campaign, MOBILE IS FOR, has launched and will run in feeder markets throughout the country. Created to showcase Mobile as a welcoming and inclusive destination, the campaign aims to invite visitors to Mobile to experience our Mardi Gras, culinary scene, ecotourism, history, arts and culture. 
"We are so excited and proud to launch the MOBILE IS FOR campaign," Emily Gonzalez, vice president of marketing and communications, said. "Our destination is extremely welcoming and inclusive of people from all walks of life; we are excited to share that story in a fun, approachable way. As the city that was Born to Celebrate, we're ready to celebrate all of our visitors!"
The campaign is set to run through September 2023. To watch one of the 30-second commercial spots, click here. 
The 2021-2022 MOBie Award and President's Award winners were also recognized at the meeting for their exceptional hospitality and success in the past year. Award winners include:
Taste of Mobile MOBie:
the Insider and the Outsider

Southern Hospitality MOBie:

Malaga Inn

New Kid on the Block MOBie:

Knucklebones Elixir Co.

One with Nature MOBie:

Airboat Express

Storytelling MOBie:

Gulf Coast Tours Historic Trolley Tour 

Field of Dreams MOBie:

The PACT Theater Company

Life of the Party MOBie:

Las Floriditas

Volunteer of the Year MOBie:

Elke Groener 

Trendsetter MOBie:

Velvet Lab

Visitor Information Specialist of the Year MOBie: Ben Hill

President's Award:

Derek Tucker

President's Award:

Darron Patterson 

President's Award:

Joycelyn Davis

President's Award:

Deborah Velders

President's Award:

Joe Snowden

 
"Our team at Visit Mobile works hard to continue to tell the great story of Mobile to attract new and returning visitors year over year; however, we could not do it without the leadership, vision and dedication of our hundreds of partners and stakeholders," said Clark.
#VM#
About Visit Mobile:
Visit Mobile is the official destination marketing organization responsible for attracting visitors and conventions to the Mobile area. To learn more about our historic destination and find out why Mobile is the city that's Born to Celebrate, visit mobile.org. This convention and visitors bureau is an accredited Destination International Marketing Organization.