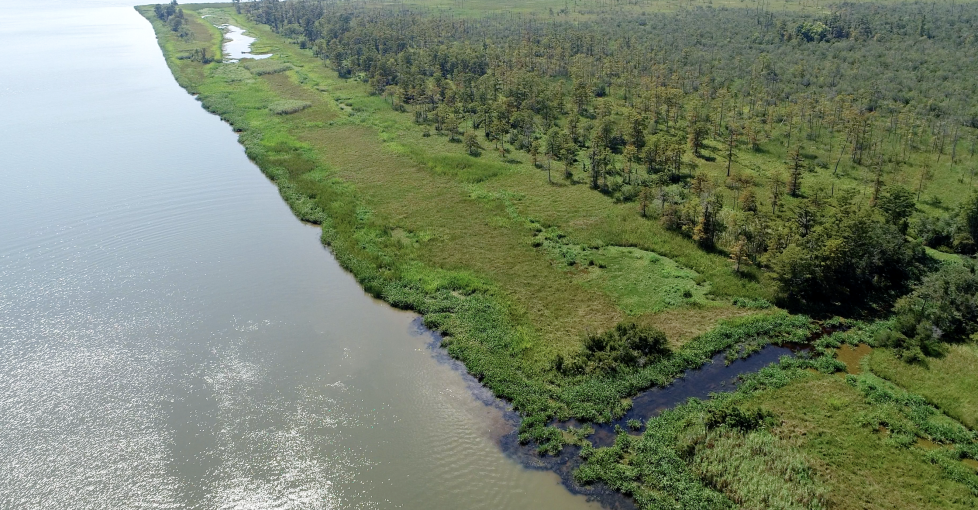 Alabama's Mobile-Tensaw River Delta is one of the richest repositories of life on the planet. A writer tours this vibrant but vulnerable ecosystem with the human who knows it best. Plus: More great escapes into the wild South. 
There's something wrong with the motor. Jimbo Meador looks up plaintively from behind the outboard of his flat-bottomed boat, which bobs idly alongside the pier in Meaher State Park. We are in Spanish Fort, Alabama, near the junction of Mobile Bay and the Mobile-Tensaw River Delta, but for the moment, it appears we're stranded ashore. "Water pump ain't working," he says, syrupy accent smoothing over both r's. His disappointment is palpable, even with his face obscured by aviator shades and a long-brimmed hat. This trip was important to him.
"Let me make some phone calls," he says. "I'll see if I can get somebody else to take you out."
Meador climbs out of the boat and walks down the pier in a white, long-sleeved sun shirt and slacks rolled up to reveal feet as brown, worn, and leathery as the sandals they're in. He pulls out his cellphone and starts calling around before he even makes it to his pickup. To him, taking journalists like myself out on this delta is something between a public service and a sworn duty. He grew up on these waters and in these swamps and woods. He courted his wife, Lynn, on nearby Mobile Bay. As an adult, the delta has been his lifeblood and livelihood; he's run everything from tugboats to shrimping boats, loaded ships, managed seafood plants, been a fly-fishing guide and a private ecotour director. Over the decades, he has watched as civilization steadily encroached, choking out the delicate natural wonderland that is his—and he stresses, everyone else's—birthright.
In his view, the public needs to be made aware of this hidden treasure—this remote American Amazon—and the dangers their presence poses to it. That's why he opened Jimbo's Delta Excursions in 2014, taking groups of six out in a boat custom-built to float into the less-traveled shallows and submerged grasses. It's why, despite the fact that he shuttered the business months ago to care full time for Lynn, who has Alzheimer's, the 80-year-old retiree agreed to take me and a photographer on a personal tour of his childhood playground, free of charge.
And it's probably why, after calling a few of his boat-captain buddies and his mechanic, he returns to the vessel ready to take a chance. He starts the motor. "Could be a bug or a dirt dauber just got into the motor's pee hole," he says. "Or the pump's broke, the engine might overheat, and we'll be stuck in a beautiful place." 
First published by Atlanta Magazine. Finish reading the full article here. 
Explore the Mobile-Tensaw River Delta
DO: Jimbo Meador may have hung up his hat, but you can still explore the delta with a knowledgeable guide. Just a five-minute drive from downtown Mobile, Wild Native Tours leads private chartered ecotours and wildlife-focused kayak excursions. Glimpse hard-to-reach corners of the waterway with Airboat Express, which offers hour-long ecotours as well as a nighttime experience devoted to alligators.
STAY: After a long day communing with nature, relax in modern luxury and take in the historic downtown Mobile setting at the Admiral. Spacious, high-ceilinged rooms replete with marble bathrooms offer a privileged view of the Port City, with easy access to the delta and Mobile Bay.