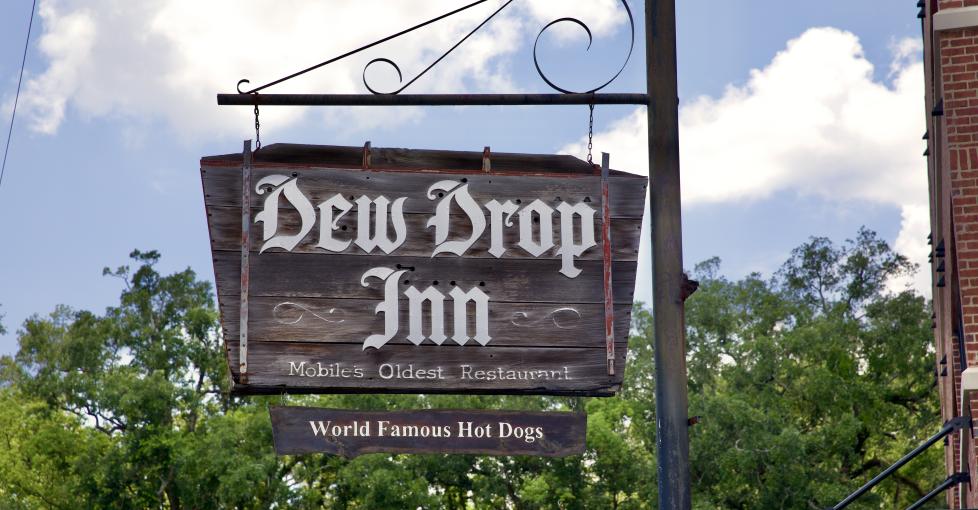 Bright red hot dogs, chili cheese burgers, and feel good po'boys are what's cooking at Mobile's oldest restaurant. 
The Dew Drop Inn has been slinging good ole' diner food since 1924 and to this day is a Mobile tradition! 
From the walls lined with old pictures and booths full of happy faces sharing laughs, to the smell of down home cookin' , you'll instantly be hit with nostalgia as you walk into the restaurant.  
While the Dew Drop Inn serves a little bit of everything, the hot dogs are what steal the show. In fact, they call their hot dog the "World Famous Dew Drop Inn Hot Dog." The World Famous Dew Drop Inn Hot Dog is a more than average hot dog loaded with sauerkraut, chili, mustard, ketchup, and a pickle - YUM! But no worries if that's not your style, you can also order a dog without all the fixings. 
Some locals claim that Jimmy Buffet's song "Cheeseburger in Paradise" was inspired by the restaurant. We don't have any doubts - the Dew Drop Inn Cheeseburger (loaded with chili) is divine goodness. 
But it's more than just the food at this local establishment. It's the good times, the laughter, and the tradition. 
It's the smiles from the waiters, the lunch dates with friends, and the true feeling of being in Sweet Home Alabama. 
The Dew Drop Inn is open Monday - Saturday from 10:00 AM - 3:00 PM. Make a trip to Mobile's oldest restaurant for a delicious bite of Mobile.