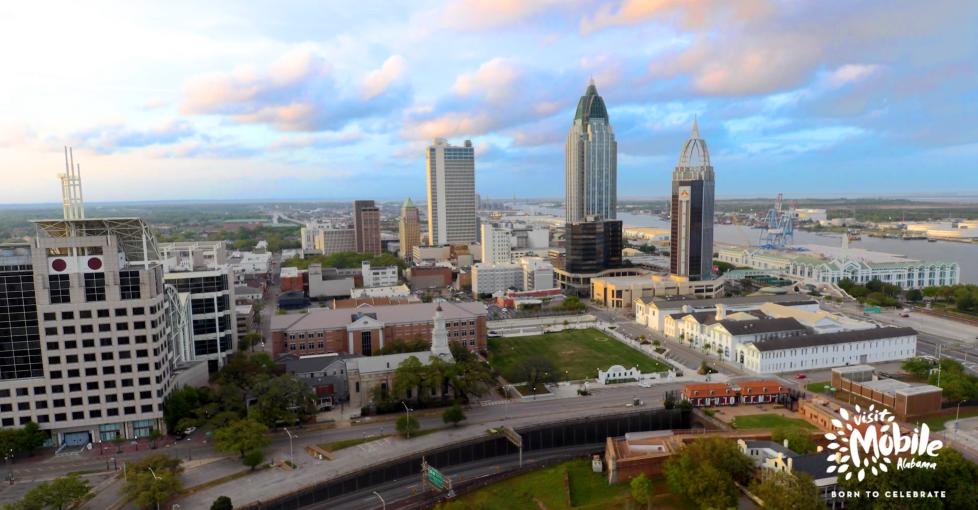 As the city that was Born to Celebrate, we always find a reason to have a good time in Mobile!  From the annual Dauphin Street Beer Fest to letting the good times roll in the birthplace of America's Original Mardi Gras ...  When it comes to memorable off-site events, Mobile is a perfect meeting location! 
Here's a list of the annual experiences in and around the city that are perfect for an offsite event or activity to offer your attendees.
LoDa ArtWalk
Every second Friday night of the month, Mobile's Lower Dauphin district comes alive with the LoDa ArtWalk, when thousands of people turn out to stroll the city sidewalks and take in an array of visual and performing arts while dining and drinking at a variety of local establishments. Now the event has a new interactive component with Roll Mobile, an invitation for participants to lace up their roller skates and zip around beneath a giant, sparkling disco ball to the beats of live music on Bienville Square. 

Coastal BirdFest
Flock to Mobile to experience one of America's prime birdwatching opportunities during Coastal BirdFest each fall. Most people think of fall as being a colorful season, as leaves change colors and fall from trees. But here in the Deep South, the colors start to land IN the trees in the fall, as thousands of colorful, neotropical birds stop throughout Mobile before making the flight across the Gulf of Mexico to their wintering grounds.

Dauphin Street Beer Fest
When the cool air blows in, we know it can only mean one thing — it's BEER FEST time. On October 16, the streets of downtown Mobile will be taken over by hops enthusiasts as they set out to "Drink Globally, Think Locally" during Dauphin Street Beer Fest!

Wine on The River
Mobile's only annual wine tasting event is held each fall at Cooper Riverside Park. Sample wine from national and international vineyards and enjoy the beauty that is Mobile's downtown waterfront!

Gulf Coast Challenge
The Gulf Coast Challenge was created to enhance the exposure of Historically Black Colleges & Universities in this enriched community. The event highlights the community's exclusive interest in HBCUs and the roles that they play in educating aspiring professionals & developing our future leaders!

Thriller Nights of Lights at The Hank
Returning each fall season at the Hank Aaron Stadium is the Thriller Nights of Lights of Mobile, a family-friendly drive-thru light show synchronized to music playing through your car radio. The only show of its kind in the country, Thriller Nights of Lights of Mobile will thrill kids and adults of all ages.

Cascading Mums at Bellingrath Gardens and Home
Mum's the word at Bellingrath in November, when the Gardens are decorated with the 58th annual Fall Outdoor Cascading Chrysanthemums display, the nation's largest outdoor cascade chrysanthemums show.

Christmas Nights of Lights
Merry Christmas from Alabama's largest synchronized light show! Enjoy over one million lights synchronized to traditional and newer Christmas music played through your own car stereo. Pack your vehicle full of friends and family to enjoy the show and continue your Christmas traditions at The Hank!

Magic Christmas in Lights
In this Gulf Coast holiday tradition, guests stroll through a dazzling light display that features more than 1,100 set pieces, 3 million lights and 16 scenes throughout the 65-acre Garden estate. In addition, the Bellingrath Home is decorated in its holiday finery and enhanced with beautiful poinsettias. Magic Christmas in Lights is a made-in-Alabama production.

Moon Pie Over Mobile
Ring in the new year as Mobile drops the world's largest 600lb electric Moon Pie! During the street party, you can dig into the world's largest edible Moon Pie,  join the second line, watch live entertainment and ooh and ahh over the fireworks show!

Reese's Senior Bowl
Since 1951 the Senior Bowl has been headquartered in Mobile, AL. This unique bowl game is like none other showcasing the country's best senior collegiate football players and top NFL draft prospects. Played annually in January, the teams representing the North and South are coached by the entire coaching staff of two National Football League teams. The draft starts here!

Lending Tree Bowl
Every year the LendingTree Bowl  features an opponent from the Sun Belt Conference (SBC) playing a team from either the Conference USA, Mid-American Conference (MAC) or another qualifying team for the ESPN events selection. This annual bowl game has been showcased in Mobile, Alabama since 1999.

America's Original Mardi Gras
It's mystical, colorful, filled with royalty, steeped in tradition and yes … it happened here first! Mardi Gras in Mobile is a family-friendly time of parties, balls, parades and revelry. Find your spot and get ready to catch Moon Pies, beads and trinkets! 
There are many reasons to choose Mobile when looking for the perfect destination for your next conference … and our unique events are just a plus! To learn more about what Mobile has to offer for your next conference or meeting, visit mobile.org/meetings-conventions!