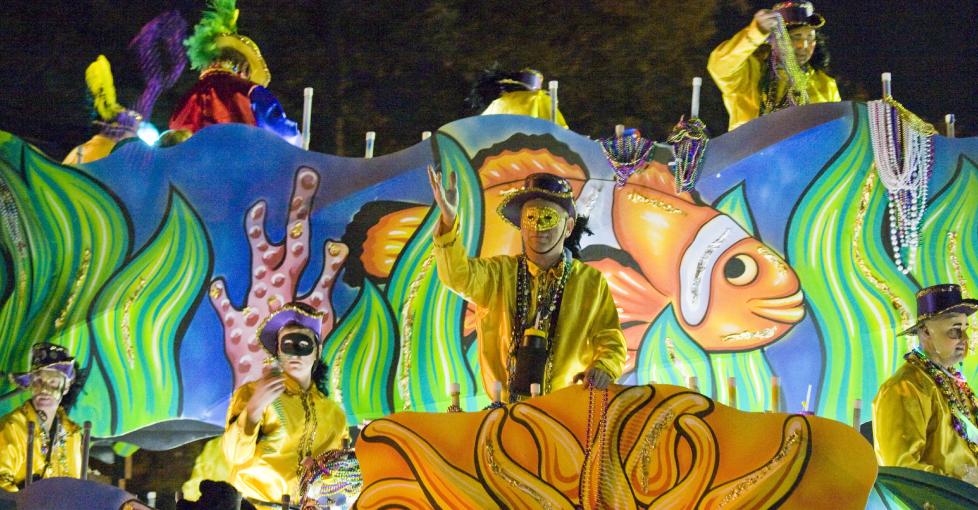 For us locals, Mobile Mardi Gras is a sport and knowing the ins, outs, and everything in between is all part of the fun! So for you first-timers, let us bring you up to speed. Here's what you need to know if you're a first-timer to Mobile Mardi Gras:
We love Moon Pies— Banana, chocolate, peanut butter, mint, double-decker or the precious mini Moon Pies. We love them all the same. Soon you will too.
Streets Will Close —Don't wait until ten minutes before the parade starts to find your spot. Get to your spot 30 minutes before the parade!

Bead trees are the best trees —Trees in downtown Mobile look a little different than most. Trees along the parade route often catch the most beads and that's how we like it.

You can catch the parade more than once — It's very common for folks to catch a parade twice. But, we know the secret to catching it a third time.
Watch out for flying moon pies — Literally, watch out. They fly fast and could leave a mark.
Joe Cain is the man — He's the Father of Mobile Mardi Gras and a legend in Mobile.
Don't jump the barricades — Trust us, just don't do it. And, you're welcome.
Bring something to hold your loot — It seems simple but you'd be surprised at how many people forget something to carry their prized catches in!
There are plenty of places to park — There are plenty of places to park in Downtown Mobile.  Find them, here. Or, if you see a spot on your way to a Central Parking lot, by all means, wiggle your way in.
Signs make the perfect target — Lit-up signs are a goldmine. So, go ahead and engineer one up. You'll know it's a hit when you make thousands of new friends trying to swoop in to catch your throws.
Cute little kids are part-time ninjas — That's right, those adorable little angels standing beside you will take you down over some beads and you won't even see it coming.
You can walk around with your beverage — Grab a drink, walk around and have fun. After all, it's Mardi Gras!
Want more on Mobile Mardi Gras? Of course, you do! Click here to learn more!