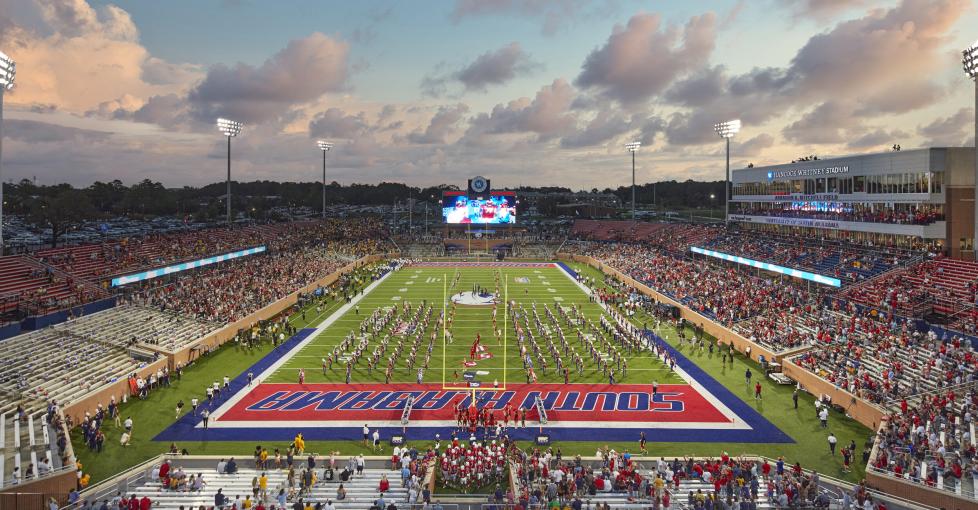 Mobile is the coolest college town along the Gulf Coast, according to us. But, you don't just have to take our word for it — experience it for yourself. As the home of America's Original Mardi Gras, we know how to have a good time; come cheer on the Jaguars and explore Mobile this fall.
While many people think of Auburn, Tuscaloosa, Baton Rouge or Athens as the only destinations for football Saturdays, it's simply not the case. The University of South Alabama Jaguars call Mobile home, and we're excited that you're getting ready to plan your trip for the game. 
Must See Spots on the University of South Alabama Campus:
USA Archaeology Museum
​The USA Archaeology Museum showcases Gulf Coast artifacts and covers over 12,000 years of prehistory and history. Artifacts are contextualized using a series of life-size scenic representations depicting archaeologists at work and glimpses into the ways of life of ancient Woodland cultures, mound-building Mississippian peoples, early French settlers, and an African American family after the Civil War. Learn more and plan your visit.
Moulton Bell Tower and South Paw Statue
This 140-foot bell tower stands tall on South's campus. The tower is named in honor of President Gordon Moulton, the university's second president. Just across the street stands a statue of Southpaw, the university's mascot. This statue is part of the Gwin Sculpture Collection. 
South Mural outside of the Student Center
This 69-foot wide mural is located just outside the USA Student Center. It was completed in 2021 by South Alabama graduate Andy Scott. Read more about the South Mural. 
Glenn Sebastian Nature Trail
The Glenn Sebastian Nature Trail on campus includes over three miles of trails winding through 95 acres of native pine and oak woodlands. The trail was named after Dr. Glenn Sebastian, a USA faculty member who taught geography classes and chaired the Department of Earth Sciences. For more and a trail map, click here.

Things To Do on Game Day:
Mobile's finest food trucks serve up some delicious fare. Located next to the USA SGA Pavilion south of the stadium, the food truck court includes both savory and sweet options and opens at 2 pm. 
It wouldn't be a game day if there weren't a kids zone! Located in the southeast corner of the stadium, the area includes inflatables, a mini football field, a design-your-own rally towel station and more! The kid's zone opens at 2:30 pm.
The Prowl begins 2 hours and 10 minutes before kick-off! Worried about missing it? No worries — fireworks will begin 5 minutes prior! 
For more information on game day, tailgating, parking and stadium information, visit the USA Jaguars website. 
Make the most of your weekend—come a day early or stay an extra night; Mobile has so much to see and explore. 
If you like to keep your weekends in the great outdoors, you've come to the right place. Mobile is home to 'America's Amazon,' better known as the Mobile-Tensaw River Delta. It's the largest river delta and wetland in Alabama and the second largest in the country. You can find up to 40 species of mammals, 300 species of birds and 500 species of plants as you explore from a kayak or – if you prefer something a little more adrenaline-pumping – an airboat.
Indulgent dining opportunities abound if your idea of adventure happens on your plate instead of on the water. With flavors for everyone — your new favorite meal will now only be found in Mobile. Fresh Gulf seafood, smoked BBQ, tasty tacos and mouth-watering beignets await! 
Mobile is home to some most fantastic museums – that's a fact! Climb aboard the USS ALABAMA Battleship or explore over 300 years of history at the History Museum of Mobile. Rather captain a ship right into one of America's largest ports at GulfQuest National Maritime Museum or land an Airbus A320 at FlightWorks Alabama, no problem! Get hands-on at the Exploreum Science Center or admire art at the Mobile Museum of Art. 
Tour Mobile and hear it from the experts. Climb aboard a Mobile Trolley Tour or hear spin-tingling ghost stories with Bay City Tours. Rather eat and take a tour at the same time? Bienville Bites Food Tour explores Mobile's rich culinary history while treating you to tasty bites. Hear the dark secrets of Mobile on a Secret History Tour or marvel at Mobile's architecture with a private historic architecture tour. 
Get ready for the weekend of a lifetime and book your stay today. Go Jags!
---
Feature image: Hancock Whitney Stadium /  University of South Alabama Athletics / JT Crabtree, assistant director of broadcasting