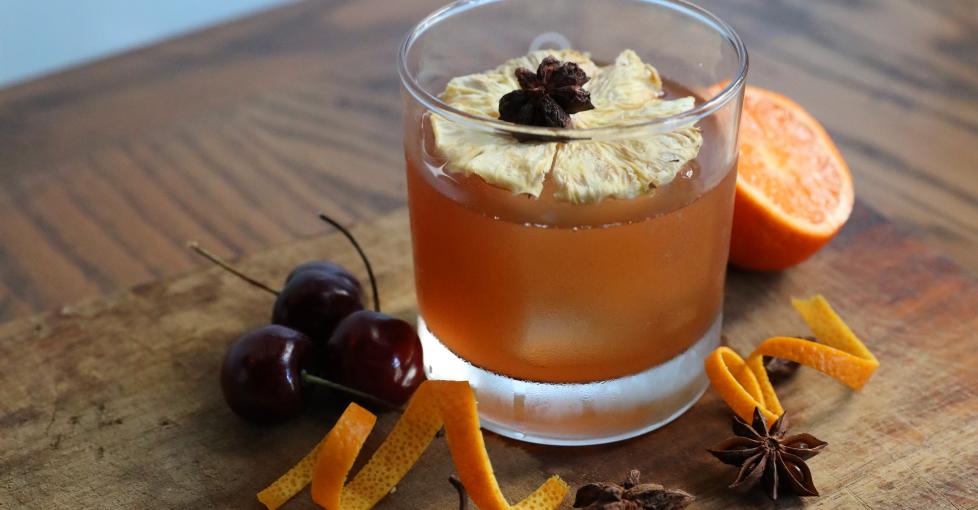 The Van Antwerp Building has stood at the corner of Royal and Dauphin Street in downtown Mobile since the mid-19th century. For almost 7 decades, the Van Antwerp was a three-story building which housed G. Van Antwerp & Sons' drug store. At the turn of the century, the Van Antwerp Building grew to 120 feet becoming the city of Mobile's first skyscraper and the first reinforced concrete skyscraper in the Southeastern United States.

If you're visiting, taste the past as you enjoy a Van Antwerp Old Fashioned at one of Mobile's most eclectic eateries, Squid Ink Eclectic Eats and Drinks, or enjoy one at home following this family recipe! 
---
The Ingredients:
1 ½ oz Old Forester bourbon

1 oz sour cherry and kumquat infused brandy

½ oz roasted pineapple syrup

2 dash Angostura bitters

The Steps:
Combine brandy with prepared sour cherries, kumquats, and roasted pineapple. Set aside to infuse for 7 days.

Make the roasted pineapple syrup: Cut one whole pineapple into half inch round slices. Grill over open flame. Combine pineapple with water and sugar in a pot and bring to a simmer on low heat. Add cloves and fresh ginger. Cook until fruit is soft, then lightly muddle pineapple to release flavor. Remove from heat and allow syrup to infuse and cool. Strain and set aside.

Add the syrup, bitters, fruit infused brandy, and Old Forester to a mixing glass, stir with ice until chilled. Strain into large rocks glass with large ice cube. Add dehydrated pineapple or brandied cherries as garnish.
*Recipe provided by Squid Ink Eclectic Eats and Drink