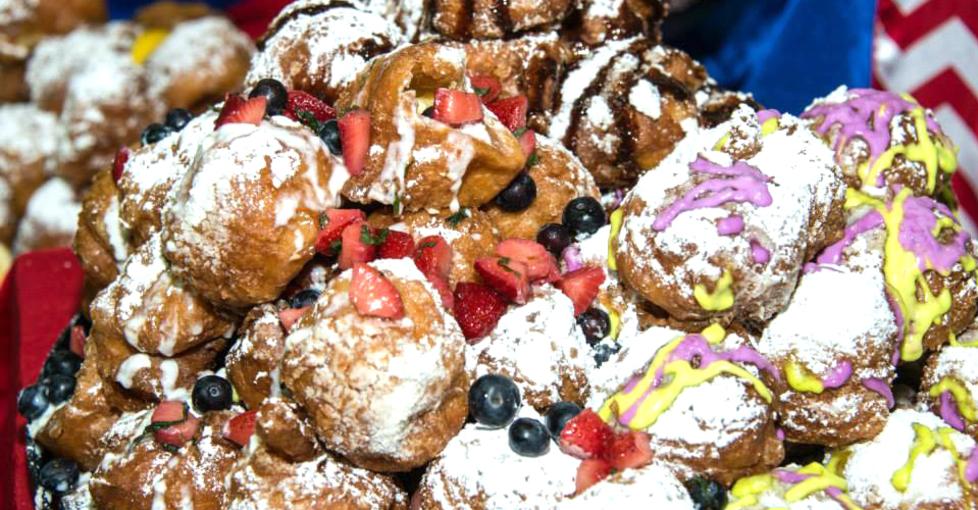 What started as a 'sweet' way to promote the Reese's Senior Bowl has since spawned into something so deliciously brilliant. First of all, if you haven't had the beignets at Panini Pete's café & bakeshoppe, you should drop what you are doing and go --NOW.
We all know of 'that place' in New Orleans that has world famous beignets. However, what Panini Pete's has masterfully created is nothing like Café Du Monde.  In fact, these beignets are made with completely different dough – wet dough versus the traditional yeast dough which makes the inside moist and flavorful.  Then, using an ice cream scooper, they take a swim in the fryer and then stuffed and topped with magic.
That magic is the perfect size dollop of peanut butter they stuff inside their already perfect, original beignet. If that wasn't enough, the beignets are drizzled with melted chocolate and topped with powdered sugar to make the ultimate beignet – the Reese's Senior Bowl Beignet.
Once they started stuffing beignets, they couldn't stop. We have tasted Strawberry Drizzle, Red, White and Blue and Mardi Gras stuffed beignets that make you happy to be alive. Trust us, they are so good, you don't even realize you have powdered sugar all over you. And, when you do realize, you wear it proudly.
Dear Pete, on behalf of all of us, thank you and keep stuffin'!