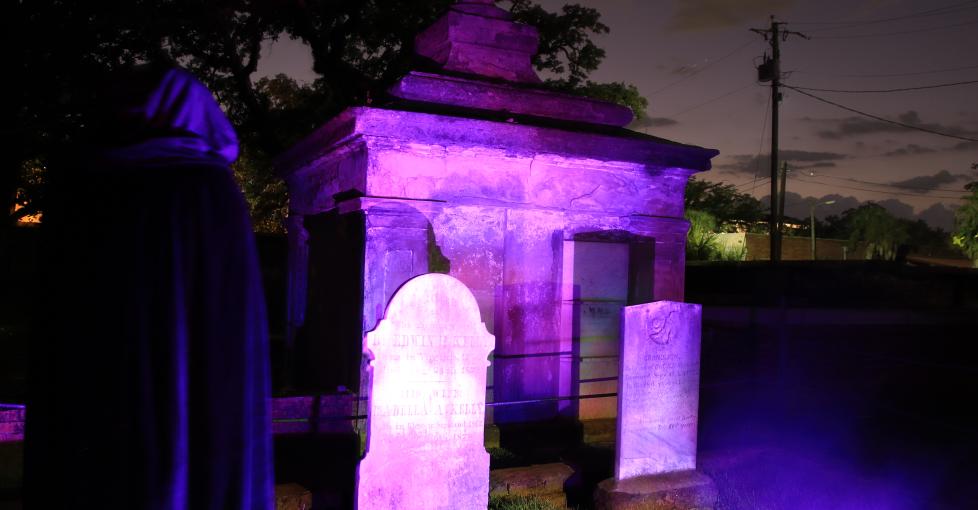 Mobile has more than 300 years of hauntings that are just waiting to be explored by those brave enough to dare! From ghost hunts to the dark secrets woven into Mobile's history, the Azalea City has no shortage of spine-tingling experiences. Here are some suggestions to get your spooky season started:
Tour
Rumor has it that Mobile is a city full of ghosts and haunted history. Hear tales of darkness, death, and dismemberment on a Dark Secrets Tour. The walking is easy, but the stories are dark as you explore pre-Civil War mansions, overgrown gardens, and an old church with a mysterious past. 

Experience Mobile's ghostly residents, folklore, and other strange events from our city's past on a Ghost Stories Tour! This tour, suitable for all ages, is sure to give you a spine-tingling experience!

A fan-favorite way to explore Mobile this fall is on a Bites & Frights or Sips & Scares tour with Bienville Bites Food Tours! Take in the sights and sounds of haunted Mobile as you learn the history of our city through food and cocktails. Tour dates vary, be sure to make your reservations!
Explore
Boyington Oak - Church Street Graveyard — According to local legend, Mr. Boyington was executed for a crime he didn't commit. The moment he realized his life was about to end, he informed everyone that an oak tree would grow from his grave to prove his innocence. And that it did! Many people have heard strange noises coming from near the tree.

Historic Oakleigh House — Supposedly haunted by a female ghost, guests have reported seeing her in the parlor. Several shadowy figures have also been spotted throughout the home, in addition to the sounds of strange voices.

Bragg-Mitchell Mansion — One of the most photographed buildings in Mobile, and it's also one of the city's most haunted places. The most popular haunting that reportedly takes place is the lady of the mansion, along with her phantom feline.
Stay
The Malaga Inn — Believed to be one of the most haunted hotels in Alabama. Several guests have reported seeing the ghost of a woman dressed in white pacing the balcony. Many other guests have witnessed a chandelier swinging back and forth, lights coming on all by themselves, and furniture pieces mysteriously moving around on their own. 

The Battle House Renaissance Hotel — Guests and staff members have reported seeing strange things occur inside the hotel, including faucets and lights turning on and off by themselves.

Historic Fort Conde Inn — Mobile's second-oldest home, in addition to it being one of Mobile's most haunted places. Many guests have reported the sounds of clawing near the floor. Some have even witnessed furniture moving on its own.
For a unique overnight experience, and to see if this rumor is true, consider booking a stay at one of these historic hotels this fall!