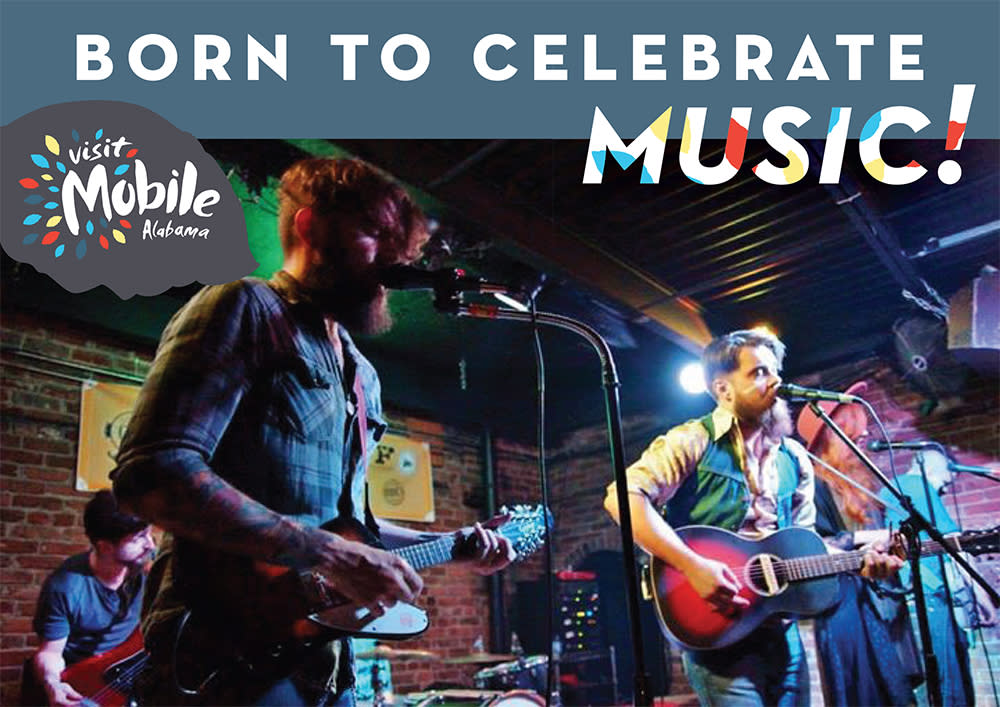 Mobilians are born to celebrate and nothing livens up a celebration more than music. Mobile's spirited, soulful approach to hospitality makes it the perfect town for musicians and music lovers. This weekend, Downtown Mobile will be rocking to the tunes of over fifty bands, along with an art market and live art competition, food and fun. Founded in 2011, SouthSounds Music Fest is the first festival dedicated to showcasing the best musicians and artists in the South and has grown exponentially, garnering national recognition by musicians, the music industry and fans each year.  SouthSounds is held annually on the second weekend in April in venues and on free public stages throughout Downtown Mobile.   Learn more at www.southsoundsfest.com. Year-round, you'll find live music just about everywhere you look. From recent national acts like Robert Plant, Harry Connick Jr. and Dr. John at the historic Saenger Theatre to mega stars like Elton John and Wide Spread Panic at the Mobile Civic Center to nightly shows in pubs and local bars/restaurants featuring our talented local acts, music is a way of life for many Mobilians. (In fact, the lobby of the Saenger proves to be one of the best spots in town - pre-concert - to run into friends, neighbors and newcomers!)
Additionally, take a look at our recommendations for planning your music-filled Mobile getaway:
The Mobile Symphony Orchestra, Mobile Opera and the Mobile Pops offer cultural experiences like no others anywhere along the Gulf Coast.
Ten Sixty Five, the city's newest outdoor music festival has plans to roll out their second annual concert festival the first weekend of October.
 Live music performances are featured monthly at the LODA Artwalk held on the second Friday of each month.
Other locally owned venues like Alchemy Tavern, Boo Radley's, BLUEGILL, Café 615, Callaghan's Irish Social Club, Dauphin's, Joe Cain Café, The Merry Widow, Moe's Original Bar-B-Que, O'Daly's Irish Pub,  OK Bicycle Shop and Veet's offer live music regularly. Check our website for listings to many more restaurants, bars and music venues.
You'll find someone singing something somewhere every day in Mobile!