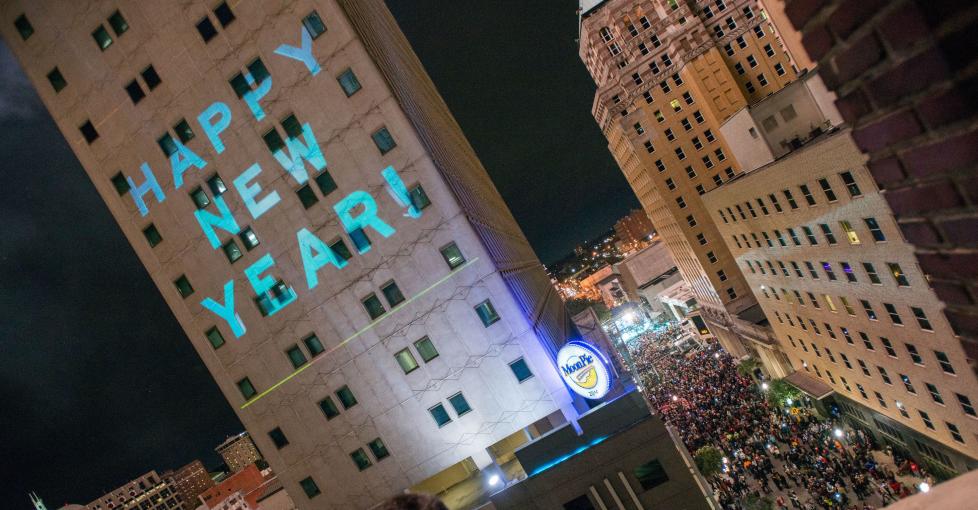 Ring in 2022 at one of the Gulf Coast's largest New Year's celebrations featuring Trombone Shorty on the main stage! Dig into the world's largest MoonPie, join the second line, enjoy an all-star fireworks show and watch the world's only 600lb electric MoonPie drop at midnight.
We've put together the perfect MoonPie Over Mobile itinerary:
Friday, December 31
3 PM | Check-In
Let's get this NYE party started right … comfortable and luxurious! Choose from a variety of hotels, several of which are offering NYE exclusive packages! Our hotels range from historic boutique inns to modern contemporary hotels! 
5:30 PM | Dinner
With strong ties to so many interesting cultures, it just makes sense that our rich melting pot of flavors and personalities easily finds its way to local tables and plates. Choose from a variety of our restaurants. Looking for a white-cloth experience? We've got it! Best wings, burgers or tacos? Yep, got those, too! Whatever route you choose, you'll fall in love with our culinary scene! 
7 PM | Pre-Party Drinks
Downtown Mobile is full of fun! The LoDa District is home to a variety of bars to celebrate the new year! From hand-crafted cocktails to local craft beer, everyone will find their new favorite drink! 
8 PM | The MPOM Celebrations Begin
For a detailed schedule of the MoonPie Over Mobile events that begin at 8 pm, click here! 
Saturday, January 1
10 AM | Brunch & Bubbles
The New Year is here! Start it off right with the most delicious brunch at Spot of Tea, Bob's Downtown Diner, Ruby Slipper or a variety of other options! 
THE LoDa STROLL
Experience the history and culture of downtown Mobile's Lower Dauphin Street Historic District. You'll find some of the best shops, sips, and photo-op spots!
12 PM | Arts & Culture
Art galleries galore! All within a few blocks of each other, you'll discover many art galleries full of works from a variety of artists locally and around the world. 
1 PM | Shop
Check out the several retail locations downtown. Take home a piece of Mobile from Bienville Souvenirs & Gifts or pick up a funky gift from the local start-up incubator Urban Emporium!
5 PM | Cheers!
Enjoy a pre-dinner cocktail at POST or The Haberdasher where mixologists will wow you with original, fresh libations crafted to your liking. 
6 PM | Dinner
With over 50 options just within walking distance, downtown Mobile is your oyster. From fall-off-the-bone smoked meats, to tacos and mouth-watering burgers, to fresh, boat-to-table … we have it all! Hurry—make a reservation now!
Sunday, January 2
10 AM | Breakfast Your Way
Powdered sugar dollops of heaven or perhaps omelets, bacon and grits? Trust us, we're not going to let you go hungry before you take off exploring all that the city has to offer! Plan your Sunday breakfast now!
12 PM | Explore Mobile
As a 300-year-old city, we have many stories to tell; but, which one will you hear? Whether you choose to explore a local museum, take a guided tour or a stroll under the oaks you'll love learning about our rich history and culture. If your interest leans more towards flora and fauna, head to Bellingrath Gardens to enjoy the 65-acre landscape masterpiece. Take a tour of one of the many historic antebellum homes or experience the fast-paced thrill of an airboat ride through the delta.