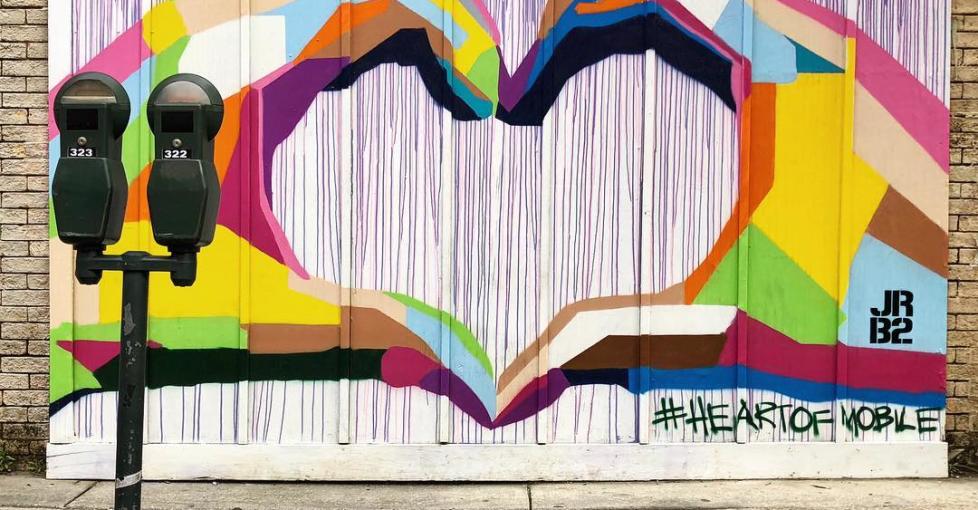 Did you really travel somewhere if you didn't post about it? From stunning architecture and outdoor beauty to unique artwork, Mobile has you covered for your next Instagram picture. Keep reading to discover our list of 8 Photo Worthy Spots in Mobile! 
Murals:
It's no secret that local artists have taken over the walls of buildings in Downtown Mobile. Wander through Dauphin Street and see how many murals you can find! 
Downtown Mobile: 
Think city vibes for your next picture! From the iconic skyline to peaceful parks, you're sure to find an ideal spot to snap a picture in downtown. Pro Tip: Mardi Gras Park is the perfect spot to use the skyline as your backdrop. 
Cooper Riverside Park: 
We aren't called the Port City for nothing! No need for a boring picture when you're at Cooper Riverside Park - snap a picture with the port in the backdrop or stand in front of the beautiful fountain. There's so much to choose from! 
Spring Hill College - Avenue of Oaks:
Trees, trees, and more trees! Seriously though, the Avenue of Oaks is breathtaking year-round. Stop by in the Spring to see the beautiful Azalea's at bloom!
The Steeple: 
We weren't lying when we said you'd see unique artwork throughout our city! This angel playing music is made of old parts and ready to snap a picture with you. 
Washington Square:
Located in the Oakleigh Garden District, this square offers peaceful vibes. Step up your Instagram game by planning a fun afternoon picnic in the square or just snap a picture of the unique trees and gorgeous fountain. 
The Battle House Renaissance Mobile Hotel & Spa: 
Historical elegance in downtown! Step into their lobby and be transferred back in time. Seriously, check out all the details! 
Dauphin Island: 
It's island time! Pack your favorite outfit and head to Dauphin Island to snap your picture on the beach. Dauphin Island is the only dog-friendly beach in Alabama. Make it a family affair, and bring your furry friend! 
Now your friends will believe you when you say you visited Mobile! Pack your camera (or phone) and get ready to snap your next favorite picture.