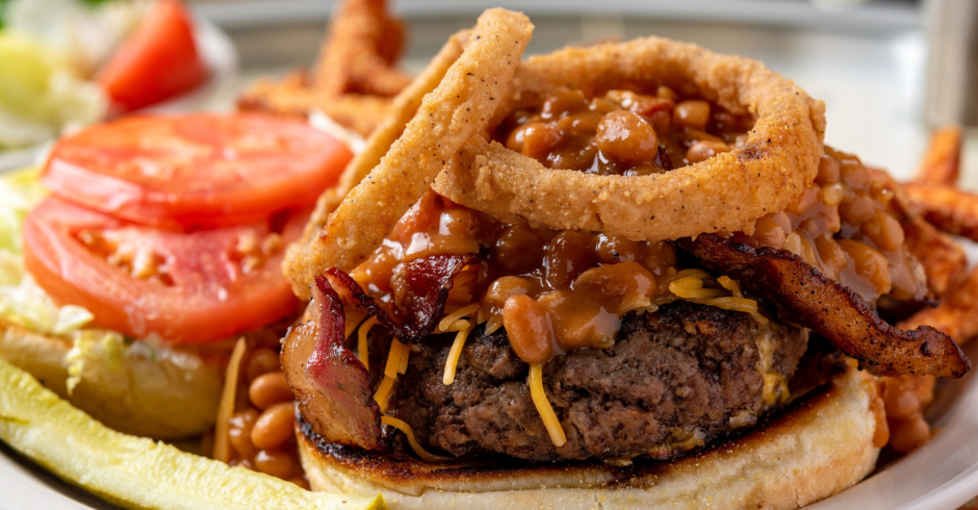 We promise, you won't go hungry in our tasty town. Take a journey around the city and enjoy these burgers that rule!
The Mac Attack @ LODA Bier Garten — You may have to throw in the napkin when faced with a five-cheese, deep-fried mac & cheese patty atop a grilled burger, crowned with bacon, a slice of cheddar and a touch of mustard.
Patty Melt @ T.P. Crockmier's — Is a patty melt really a burger? We can discuss that after you enjoy the patty topped with sautéed mushrooms, onions and melted Monterey Jack, all on toasted rye.
Lafayette Burger @ The Blind Mule — It's the bleu cheese crumbles that take the half-pound patty over the top. Other party attendees include bacon, red onion and tomatoes.
Butch Burger @ Butch Cassidy's Café — It sounds like a standard lineup with bacon, cheese, lettuce, tomato, onion, pickles, mustard and mayo. But that's what lets the goodness shine.
Chili Cheese Burger @ Heroes Sports Bar & Grille — There's no room for any of that silly "rabbit food" when the half-pound burger is topped with chili, shredded cheese and onion. Messy, but so worth it.
L.A. Burger @ Callaghan's Irish Social Club — It isn't West Coast but Lower Alabama that gives the flavor as Conecuh sausage is mixed with ground beef, then topped with sweet slaw and spicy mustard.
Money Burger @ Bob's Downtown Restaurant — It's a party for your taste buds when the Caribbean-seasoned patty meets Brie cheese, locally produced bacon, pineapple, lettuce and the surprising kick of pico de gallo.
Breakfast Cheeseburger @ FIVE — Breakfast on a burger? Yum! On this delectable brunch menu double patty burger, you will find fried eggs, American cheese, bacon, and relish. Served with warm fries and a smile.