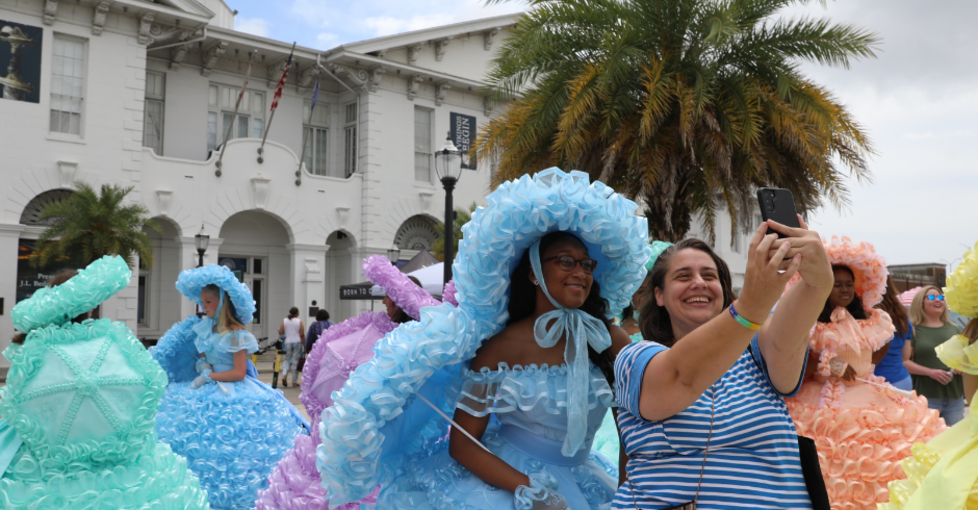 What is Explore Mobile Day?
Visit Mobile, in partnership with the History Museum of Mobile, will kick off the celebrations for National Travel & Tourism Week with Explore Mobile Day! Explore Mobile Day will be held on Sunday, May 7, 2023, in downtown Mobile at Mardi Gras Park from 1:00 p.m. to 5:00 p.m. Enjoy live music, Frios Gourmet Pops, activities, and free admission to Mobile's museums, history tours, and local attractions! 
Explore Mobile Day is a day each year to remind the community that they can play "visitor" in their own town, taking in the museums and attractions for free, and getting to see for themselves why Mobile is such an appealing destination for millions of visitors each year. Attendees will be able to explore 300 years of Mobile's rich history inside the History Museum of Mobile, experience Colonial life inside the walls of the Colonial Fort of Mobile, gaze upon the period rooms of the Conde-Charlotte Museum House, step back in time as they navigate the Dora Franklin Finley African-American Heritage Trail, and more.
Start the day with us at Mardi Gras Park where you can learn more about the USS Alabama, Exploreum Science Center, Africatown Freedom Tours, and Richards-DAR House Museum at their information stations. Remember to grab your passport before heading off to enjoy the free excursions! Each passport will receive a personalized photo ID and grant free admission to the museums and attractions listed below!
---
FREE MUSEUMS & ATTRACTIONS
History Museum of Mobile, Mobile Carnival Museum, Colonial Fort Condé, GulfQuest National Maritime Museum, Condé-Charlotte Museum, Historic Oakleigh House, Phoenix Fire Museum 
FREE "MICRO" TOURS 
Dora Franklin Finely African-American Heritage Trail (DFFAAHT), Bienville Bites Food Tour
*Each tour will depart from Mardi Gras Park*
---
Need help? Check the map below for all Explore Mobile Day attraction locations.
What is National Travel & Tourism Week?
National Travel and Tourism Week, the annual celebration of the contributions of the travel and tourism industry, spotlights the critical role that travel continues to play in driving economic growth and building the path forward.